One of Eddie Murphy's trademark franchises, Beverly Hills Cop has produced three Axel Foley adventures, and here's how we ranked them from worst to best. Blessed with one of the catchiest and coolest instrumental theme songs ever produced for a movie, 1984's original Beverly Hills Cop was a massive hit and helped turn Murphy into one of the biggest stars in the world. The role of wisecracking Detroit police detective Axel Foley provided Murphy with an excellent showcase for his boundless charisma and impeccable comic timing.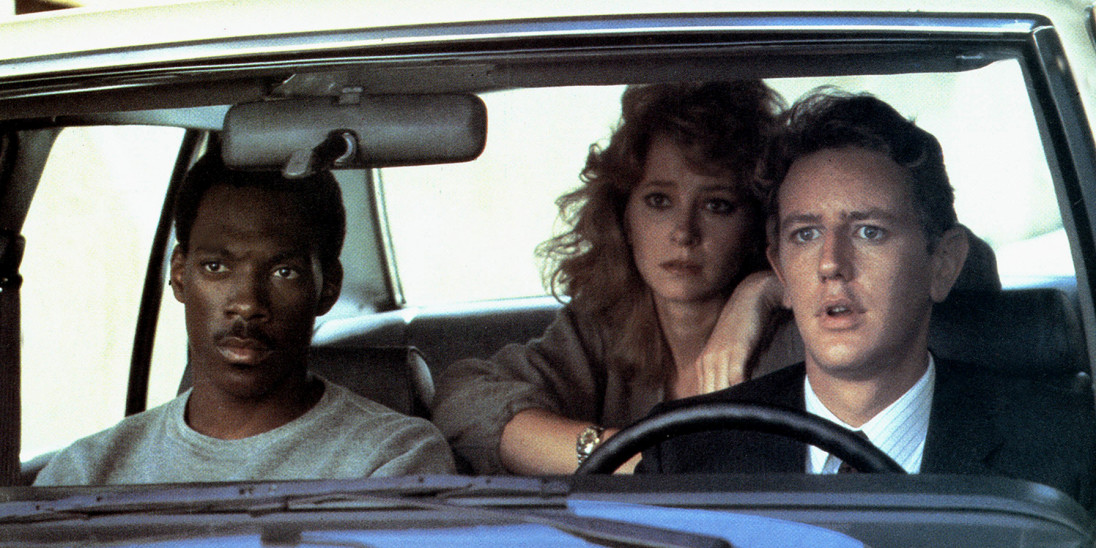 Earning over $300 million on a budget of only $13 million, it's no surprise at all that Paramount asked Murphy to return for 1987's Beverly Hills Cop 2. While not as big a hit at the box office, the sequel still earned major profits, and fans seemed hungry for more Axel Foley. In 1994, Murphy came back for another round in Beverly Hills Cop 3. This time the box office took a major dive from the first two, and it's unclear if a profit was made at the end of the day, as the budget was now much higher.
Murphy has been trying to get a Beverly Hills Cop 4 off the ground for a long time, with the most recent updates slating the film for a Netflix release. Until if and when it arrives though, fans can revisit Axel's first three cases for their prime Murphy fix. Here's how Eddie Murphy's signature trilogy stacks up, worst to best.
1. Beverly Hills Cop 3 (1994)
Beverly Hills Cop 3 has a pretty bad reputation, to put it mildly. That's even to the point where director John Landis and star Eddie Murphy have publicly distanced themselves from the threequel, with Murphy being particularly hard on it. Murphy has even admitted that part of the reason he wants to make Beverly Hills Cop 4 so bad is not wanting Axel Foley to go out with a terrible movie. That said, while Landis and Murphy are certainly entitled to feel however they do about their own creation, Beverly Hills Cop 3 doesn't really deserve the intense level of vitriol directed at it.
That's not to say that Beverly Hills Cop 3 is great by any means, or even particularly good, but it's a watchable enough action/comedy sequel, and far from the worst entries in its genre. It's got a few good set pieces, its amusement park location is at least interesting looking, and even a Murphy on autopilot isn't too bad to watch. It seems clear that Murphy doesn't quite have his heart invested in this sequel though, and while he reportedly wanted Axel to seem more grown-up, what happens is that Axel just isn't as funny. The absence of John Ashton's Jack Taggart from the mix also throws off the franchise's usual rhythm, even if it is nice to see Judge Reinhold back as Billy Rosewood. Despite all those flaws though, Beverly Hills Cop 3 is still worth watching at least once for diehard fans of Beverly Hills Cop, Eddie Murphy, and the Axel Foley character.
2. Beverly Hills Cop 2 (1987)
1987's Beverly Hills Cop 2 is also not a great movie, but it is miles and miles better than Beverly Hills Cop 3 and is a fun watch for anyone who enjoyed the original or just really likes Eddie Murphy. Ably directed by Tony Scott, Beverly Hills Cop 2 sees Axel Foley leave Detroit for Los Angeles once again, this time after Captain Bogomil (Ronny Cox) is shot, but thankfully not killed. As he investigates, Axel finds new corrupt leadership within the department and unexpected government involvement. Reinhold and Ashton's chemistry with Murphy returns instantly, and it's still quite enjoyable to watch them work together.
One crucial aspect that Beverly Hills Cop 2 has going for it over Beverly Hills Cop 3 is that it at least feels like the original, carrying a similar vibe, and thanks to the short layoff between the two films, actors just as game as they were in 1984. The main problem is that the script just isn't as sharp, although Murphy tries his best to make up for that with amusing one-liners and delightful facial expressions. On the plus side, part 2 is accompanied by the supremely catchy song "Shakedown" by Bob Seger, providing a nice compliment to "Axel F." Perhaps if Beverly Hills Cop 3 hadn't taken so long to materialize, it might've been more akin to Beverly Hills Cop 2, as the lack of an extended break looks to have kept everyone on the ball and in the zone, whereas in 3 they seem off.
3. Beverly Hills Cop (1984)
What's really left to say about Beverly Hills Cop? Directed by Martin Brest, it's one of the most beloved movies of the 1980s, and one of the best blends of action and comedy made to date. Eddie Murphy is near the height of his comedic powers in his first go as Axel Foley, with almost every moment he's onscreen likely to generate a laugh or two. While buddy movies like 48 Hrs. and Trading Places had begun to establish Murphy as a big-screen force, Beverly Hills Cop was his true coming-out party, rocketing the Saturday Night Live veteran to superstardom. Movies like Beverly Hills Cop are why Murphy, no matter his career ups and downs, will forever be a legend.
2016 came with the surprise announcement that Paramount had begun putting Beverly Hills Cop 4 into development and had replaced Brett Ratner with directors Adil El Arbi and Bilall Fallah (known for creating Bad Boys For Life). Eddie Murphy has confirmed that he is still set to make the movie and would do so after finishing his work on Coming 2 America. Paramount also licensed off the property to Netflix for distribution.
Murphy may be Beverly Hills Cop's MVP, but he's far from his only asset. Reinhold and Ashton were never better alongside Murphy, and the trio's mismatched nature makes their success as a team and eventual friendship that much sweeter. It's also fun in hindsight to see future Breaking Bad star Jonathan Banks appear as one of the main villain's personal killers. The aforementioned Ronny Cox also proves to be a refreshingly reasonable authority figure within the Beverly Hills PD as Bogomil, not presenting Axel with unnecessary resistance. Then there's of course the theme song, which most reading this have probably started humming at some point, and are now wondering how to get it out of their heads. Beverly Hills Cop is fully deserving of its classic status and remains a hilarious, thrilling watch 35 years later.
For some of the hottest comedy shows and celebrity interviews check out www.digitalpodcastnetwork.com