ArteKino offers a creative and versatile selection of European films, all available from the comfort of your own home.
With most film festivals celebrating the long-awaited return to in-person screenings, ArteKino remains a torchbearer for virtual viewing. The festival takes a love for cinema and opens it up to the European public – with no advance Covid tests required – by offering another edition of robust programming to discover.
Europe-based audiences with the inclination to seek out exciting new films and catch the hot new auteurs before they've exploded onto the scene have a selection of 12 features to choose from in the 2021 ArteKino line-up: from festival favourites to unsung gems that, despite critical success garnered at festivals, haven't had the ease of finding distribution in movie theatres.
From 1-31 December, viewers across 32 European countries, including the UK, can explore the selection in six close caption languages (French, German, English, Spanish, Italian, Polish) accessible through arte.tv and ARTE Cinéma on YouTube. Being entirely free and unequivocally promoting participation, viewership lies at the heart of this collaboration between cultural programming channel ARTE and screening platform Festival Scope, giving viewers the chance to vote for our favourite film to win the ArteKino Audience Award. So all there is left to ask is, what does this year's programme have in store?
The curated selection combines poetry and politics, subjectivity and authenticity, innocence, loneliness and struggle for survival, offering a snapshot of the eclectic spirit at the core of contemporary European cinema.
Gender and hardship are central to this year's thematic undertakings. Call Me Marianna is Karolina Bielwka's first feature-length documentary, and it swept four awards at Krakow before winning the Zonta Club Prize at Locarno. We enter the private sphere of a 40 year old Polish trans woman who has legally had to sue her parents in order to pursue sex reassignment surgery. The film expresses the turmoil of being trapped in a prison of flesh that doesn't feel yours, as much as the solace that gender affirming surgery can offer to a trans person living in Poland.
Another emotional documentary on women whose courage doesn't waver lies in Masha Kondakova's documentary Inner Wars, which takes the filmmaker directly into a warzone. The ongoing conflict between Ukraine and Russia is presented through the eyes of three Ukrainian women on the frontline who are also consistently fighting on the front against patriarchal standards and the media's caricatured representations of women in the army.
An unexpected relationship forms the basis of Nathalie Biancheri's kitchen-sink drama Nocturnal, in which an emotionally stunted yet sensitive brute in his 30s forms a precarious friendship with a 17-year-old student, providing a compelling portrait of flawed masculinity and a remarkable performance by British actor Cosmo Jarvis. In Süheyla Schwenk's Jiyan, a similar unlikely relationship develops between a young mother and her aunt-in-law, after a young couple moves from Syria to Berlin to provide a better life for their unborn child.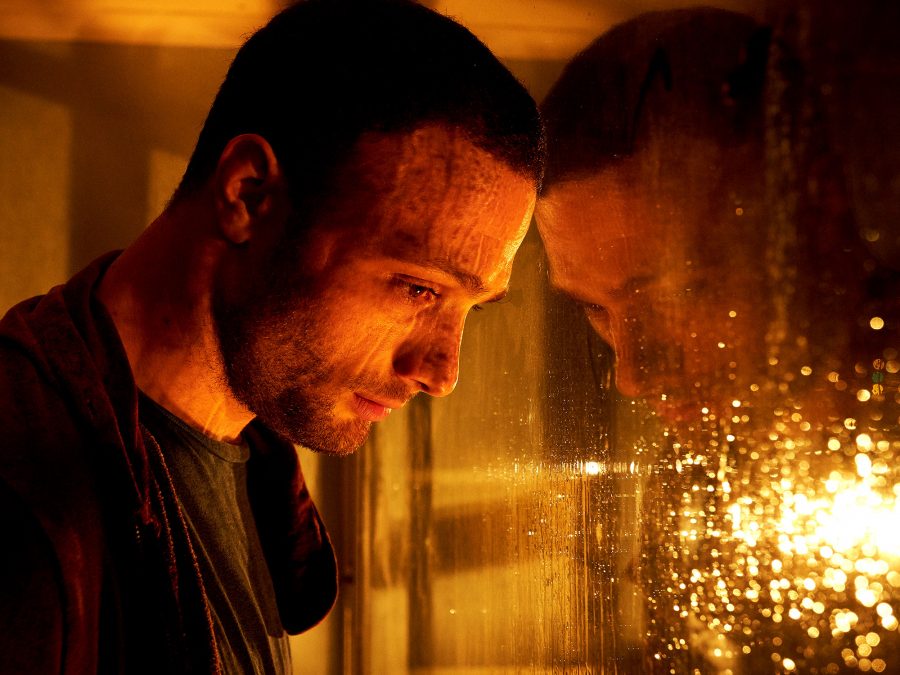 With an intimate portrait of her brother and mother, Paloma Sermon-Daï's Petit Samedi looks at a painful relationship with addiction and dependence which intertwines the personal and familial. A family living in the idyllic Southern Italian countryside, where Sara Summa's The Last to See Them takes place, lives its last moments of quotidian simplicity with an overarching sense of foreboding. Maternal love and its shifting meanings are also explored in Jonas Bak's atmospheric Wood and Water, a psychological investigation of a woman who, upon entering retirement, abandons her solitary life in rural Germany to travel to protest-ridden Hong Kong.
Political critique frames the hybrid doc Uppercase Print, a 2020 Berlinale favourite by prolific director Radu Jude. A forgotten piece of Ukranian history is dramatised through the theatrical conceptualisation of a Romanian teenager's protest against the dictatorship of Ceausescu. Theatrical reconstruction is juxtaposed with archival footage and looks at state surveillance, the banality of dictatorship, and the vitality of Romanian youth.
Astute explorations of adolescence are to be found in LOMO: The Language of Many Others by Julia Langhof, a portrait of online coming of age and computerised teenage angst, as well as Ivan Ikić's Oasis, where an unanticipated love triangle forms between three teenagers navigating feelings of desire and envy in a special needs institution. Blossoming teen friendships in the suburbs of Zurich is Karin Heberlein's contribution to coming of age with Sami, Joe and I, while Marysia Nikitiuk's tactful portrayal of innocence, fragmented identity and tragic romance in When the Trees Fall, looks at rural Ukraine through a lens of magical realism.
As you can see from this line-up, this is a selection of engaged and engaging works which seeks to explore the trials, tribulations and traumas of contemporary Europe. Watch them all and vote for the one which speaks to you the loudest.
ArteKino 2021 runs from 1 to 30 December. For more info visit artekinofestival.arte.tv
Published 1 Dec 2021