Paolo Sorrentino bares his soul in this autobiographical coming-of-age story about teenage obsessions.
Paolo Sorrentino loves breasts. This is striking to anyone who has watched The Great Beauty, Youth or Loro, in which naked female flesh is as integral to his set decoration as whooshing dolly shots are to his cinematic language.
Among other things, The Hand of God is the story of the patient zero of boobs, which belong to Patrizia (Luisa Ranieri) aunt to the Chalamet-esque protagonist, Fabietto Schisa (Filippo Scotti). This Naples-set coming-of-age story is a portrait of the artist Sorrentino as a young man, before and after a tragedy of worst-possible-nightmare-so-couldn't-really-happen proportions replaces boisterous family life with a lonelier path.
We're introduced to the sprawl of the Schisa family through Patrizia one night as she waits in a long queue for the bus that's never coming while wearing a white strappy dress – braless, naturally. A limo creeps up beside her, containing a strange old man who knows all about her and whisks her away to see 'the little monk', a local urban legend who can, apparently, make dreams come true.
As a result of this unexpected detour, Patrizia is late home and her husband flies off the handle. Cut to Fabietto on a scooter with mum Maria (Teresa Saponangelo) and dad Saveria (Toni Servillo), roaring through the night, cracking jokes.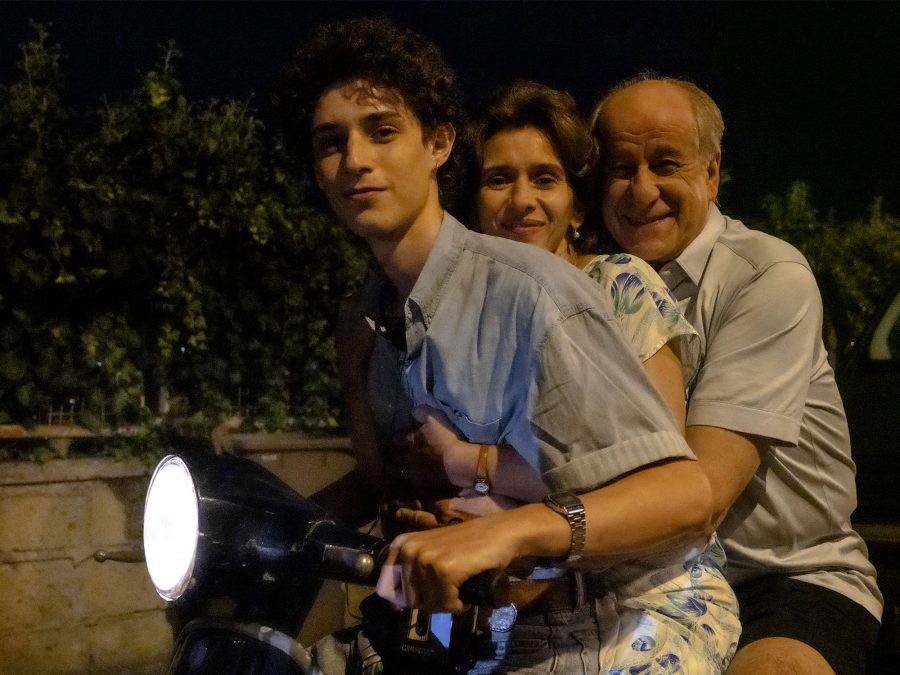 Theirs is a bubble of good vibes despite being en route to a scene of domestic violence. Saponangelo and Servillo cause mini lightning storms of delight for every moment they're on screen, even in scenes that are otherwise hard to parse. Completing the family is older brother Marchino (Marlon Joubert), an aspiring actor who loses his ambition after Fellini – whose presence looms large off-screen – tells him he looks like a waiter from Amarcuri.
Like the sport played by the icon hanging over its title, The Hand of God is a game of two halves. In the first, there is rarely a quiet moment in vignettes that span Maria's incorrigble appetite for pranks, brotherly bonding, such Marchino asking Fabietto to choose between having sex with Patrizia and Maradona being signed by Naples and – more weightily – the discovery of an affair. An extended family is drawn crassly, with Sorrentino othering physical difference, reaching for cheap jokes that are clearly inspired by Fellini, and yet Fellini himself could not have carried them off in today's world.
Still, the dynamic of the central four is a pleasure incarnate. Equal parts funny and warm, each actor brings a specific dynamism that, when combined with the rest, crackles with life and love. Time passes like a rippling summer breeze in a mode that does not quite equal the cinema of Mia Hansen-Løve but is comparable to the way she makes forward momentum feel like a delicate pleasure. Then comes the transformative incident. The film quietens down and in Fabietto's words, "I don't like reality any more."
The Hand of God is the autobiographical origin story of a filmmaker that exudes the warm intimacy that such personal storytelling enables. It's this intimacy that coaxes audiences in-the-know to be forgiving over gauche streaks, such as Sorrentino's view of female flesh as either sleekly pornographic or ridiculously grotesque.
Published 1 Dec 2021
Anticipation.
Always interested in the next glossy beast from Sorrentino.
Enjoyment.
One hell of an emotional sweep.
In Retrospect.
Lovely and jarring in equal measure. The man needs to step back from Fellini homaging.