One of the UK's most promising young actors reveals how contemporary politics influenced his role in Munich: The Edge of War.
George MacKay wants to be a small cog in a big wheel. It's a strange confession to hear from an early-career actor in an industry that awards showy look-at-me performances, but it also makes perfect sense when you cast an eye over the 29-year-old's filmography. Quietly banking impressive, and often understated, performances (mostly recently, as a young, traumatised soldier sprinting across 1917's wartime trenches and as Justin Kurzel's swaggering reimagining of Ned Kelly), MacKay is an actor who wants to serve the story.
"What is the story exploring or offering to people, and can I help that in any way? If the answer is yeah, then I want to be a part of it, I want to try and make that happen," he says in a plush London hotel room on a busy press day for Munich: The Edge of War, a film that continues MacKay's run of subtle, yet compellingly pivotal, performances.
Adapted by playwright Ben Power from Robert Harris' novel, Munich: The Edge of War is set on the eve of World War Two as Britain and Germany's head of states – Neville Chamberlain and Adolf Hitler – meet to discuss finding a resolution to the proposed German invasion of Czechoslovakia (spoiler: it does not go well). Amid the real historical context, Power places two fictional characters: the nervy, English civil servant Hugh Legat (played by MacKay) and an impassioned German nationalist-turned-radical Paul Hartmann (Jannis Niewöhner). Hugh and Paul are old university mates who find their friendship, and youthful optimism, caught in a sea of political espionage as the two become pawns in a plot to stop der Führer.
"I read Ben Power's script during the summer before last, when there was so much that, globally, socially and politically, we were reevaluating," remembers Mackay. "There was change that was rightfully being called for and, personally, a sense of figuring out how to participate in it. What is the best way to be a part of this moment that we're in? Is it activism? Is it personal day-to-day change? Or, is it symbolic change? Or, legislative? And which one informs the other?"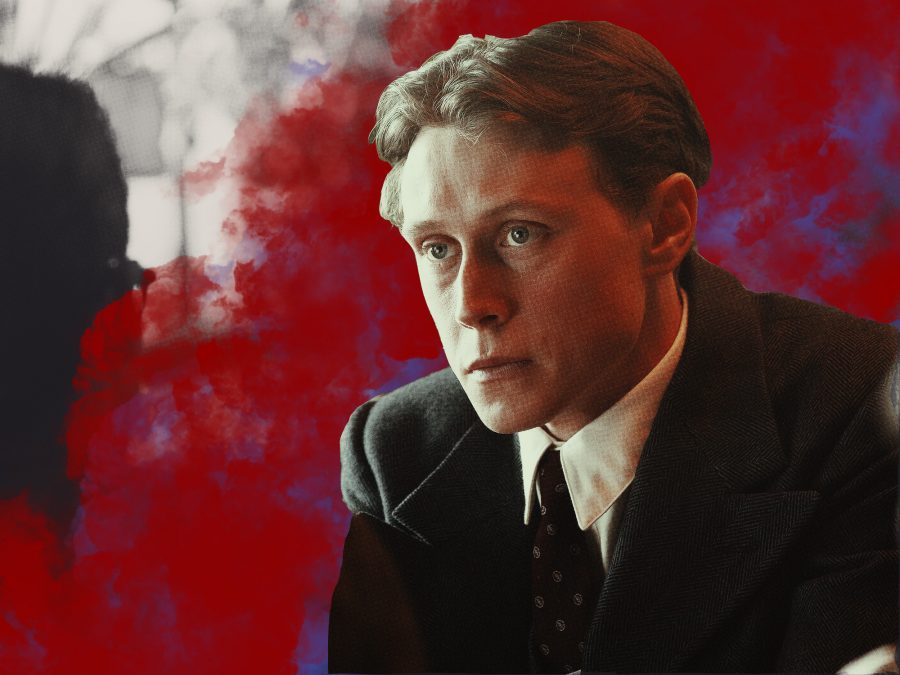 These questions are explored in the film as Hugh and Paul represent two approaches to social change: Hugh, who wants to take a legislative approach versus Paul, who believes in empowered action. "It's difficult to know what to do with the present, but the thing about history is that, although the interpretation can be shifted somewhat, the events are static," says MacKay. "Therefore, you can unpick ideas in a way that you can't with something that is happening right now. Hugh's in a place of insight, but not necessarily of power. And what you do with that, because I think we're all in a place of insight, in our day-to-day experiences. Or do you just need to, excuse my language, fucking get up and do something."
Munich: The Edge of War was shot during the 2020 Biden-Trump election and the parallels between MacKay's context and Hugh's context took on new urgency. "The characters in the story are like us in the way we sit and talk in coffee shops about the ongoings of Putin and Trump. Obviously, in hindsight, we know where events went but, for the characters, there's bigotry and some hardline policies and a fervour that's being created by politicians like Hitler, but they don't know where that's going. It felt pertinent to this present moment, the recent past and that we're currently in, because, looking at Trump, what would have happened if he got in for another four years? At what point do you step in, if something hasn't happened yet and if you can't efficiently legitimise your actions purely on just a feeling?"
These pressing political themes give Munich: The Edge of War its modern sensibility, something that is expressed in MacKay's performance of idealistic, if misguided, youthful energy. The actor went down an internet rabbit warren of essays, documentaries and mood boards to tap into the political zeitgeist of pre-war England, constructing a fictional character from cherry-picked social ideas of the time. But the most important influences for Hugh are surprisingly modern. "I sent our costume designer a mood board for Hugh and Paul, and it was completely irrelevant to the period," explains MacKay. "Paul McCartney and John Lennon, Nick Cave and Rowland S. Howard, Andre 3000 and Big Boi. These double acts who Hugh and Paul might have compared themselves to in the early 1930s, renegade pairs who rub each other up and find sport and beauty in confrontation."
MacKay talks quickly, often tripping over his words with the same sort of happy enthusiasm as his character Hugh during the flashbacks to his university days, which were MacKay's favourite scenes to shoot. "There was such a vibe and energy [to those scenes]. The sound department allowed us to speak over each other and they were always cross shooting, so that if you got it in a moment – like I interrupted you and you interrupted me – it was caught. There was a focus on creating youthful vibrancy, because these ideas are important for these characters. Like, let's talk about it! Let's do something!" MacKay beams and starts rolling his hands through the air. "Let's go, let's go, let's go!"
When asked if there's a common thread between his recent performances (for example, many of them are characters with intense burdens of moral responsibility, to their country, friends or themselves), MacKay becomes more quietly reflective. "A huge part of growing up is about distilling and shaping your views of the world and that's a constantly moving thing," he says. "I think there's a moral spine to all of us, but that's informed and changed and challenged all the time and I find the development of that fascinating. And getting to explore extreme versions of [morality] through characters, I find really important because it helps inform my own which is still developing. I don't know if I'm always actively looking for it, but I'm drawn to people whose morality is being tested."
Published 21 Jan 2022