When I was 14, my school organised an exchange with a Russian school. When the students arrived from Moscow, they performed a musical showcase at morning assembly that included various folk songs as well as, for some unknown reason, Roy Orbison's 'Pretty Woman'. When it was my school's turn to return the favour in Moscow, friends of mine who were taking part in the exchange decided to treat their Russian counterparts to various acoustic renditions of songs from the Juno soundtrack. I'm not sure whether The Moldy Peaches or Antsy Pants record sales shot up in Moscow as a result, but I'd like to think they did.
When the film was released in 2007, its soundtrack was adopted by my circle of friends as the soundtrack to our own teenage years. Like the character of Juno, it's a poignant mix of angsty and dreamy that struck a chord with girls who taught themselves guitar, experimented with colourful hair dye and probably had an account on blogging site Tumblr. Luckily, our obsession with Juno didn't extend to copy-cat teen pregnancies, but in the USA the film's impact was so profound that the rise in teenage mothers in its wake was dubbed by Time magazine as the "Juno Effect."
As Juno turns 15 this year, a bonafide teenager itself, the film and its soundtrack have arguably stood the test of time more than its contemporary pop culture artefacts (namely Flo Rida, Transformers and footless tights). Simultaneously a time capsule of mid-2000s indie with the likes of Belle and Sebastian and Cat Power and a tribute to offbeat sixties rock via The Kinks and The Velvet Underground, the soundtrack deftly manages to be endearingly quirky without veering into cutesy.
This is perhaps best represented by Barry Louis Polisar's 'All I Want Is You', a song discovered by director Jason Reitman quite by accident. Reitman had been searching iTunes for a song with a similar name when he stumbled upon the track from the children's folk singer's 1977 album 'My Brother Thinks He's a Banana and Other Provocative Songs for Children'. Polisar's peppy love song plays over the title sequence as an animated Juno walks down the street swigging from a large plastic bottle of Sunny D. The tune sets the tone perfectly for the film: heartfelt and fun.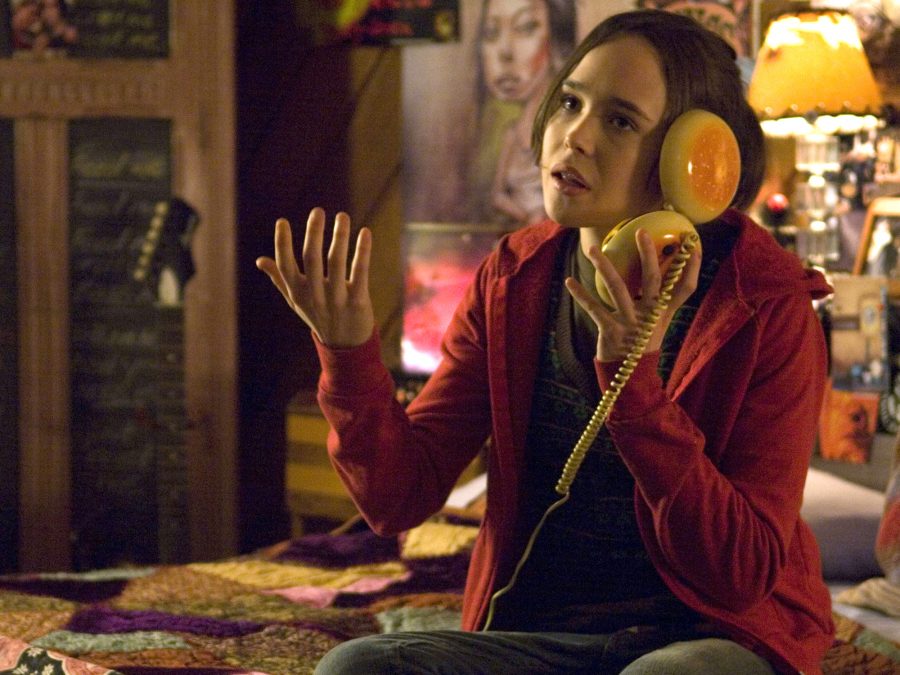 When picking music for the film, Reitman reached out to lead actor Elliot Page to advise on what he thought Juno would be listening to. He played Reitman The Moldy Peaches' 'Anyone Else But You', a track which the director decided should close the film. It ends with Juno and her boyfriend Paulie Bleeker (an orange Tic Tac-obsessed track runner played by Michael Cera) performing the duet in the street outside his house. "Here is a church and here is a steeple, we sure are cute for two ugly people," Page mumble-sings to Cera as the camera pans slowly out from the teenage couple. It's a sweet, but not overly sentimental, ending to a film that matches its optimistic but not-quite-Hollywood happy ending.
Page is also to thank for another of the film's most memorable musical moments. She introduced Reitman to the music of Cat Power, whose mesmeric cover of Phil Phillips' 'Sea of Love' plays as Juno lies in Paulie's arms after giving birth and handing her baby over to adoptive mother Vanessa (Jennifer Garner). It's a bittersweet scene made all the more skin-tingling by Chan Marshall's melancholic vocals and lilting harp accompaniment. "A lot of her music paralyses me, it's so beautiful," said Page in a promotional interview about the film's soundtrack. "She's just one of those staples in my life."
But it's singer-songwriter Kimya Dawson's contribution that makes the Juno soundtrack truly exceptional. Dawson was one half of The Moldy Peaches and when Reitman discovered her work through Page, he decided her lo-fi folk-meets-punk sensibility matched the tone of his film perfectly. Reitman saw Dawson's irreverent lyrics and upbeat melodies as the perfect accompaniment to Diablo Cody's whip-smart script and flew the film's score composer Matteo Messina out to Dawson's hometown of Seattle.
Together, they recorded various instrumental versions of her songs for the soundtrack. "He just sort of turned off the lights and ate some cookies and acted silly and told me to play them as gloomily and emotionally as I could," said Dawson in a 2008 interview with Entertainment Weekly. Dawson's work helped propel the soundtrack to chart-topping success and it was even awarded a Grammy for Best Compilation Soundtrack.
Compilation soundtracks are a hard thing to get right, and it can easily feel like a director is shoe-horning in tracks they like that ultimately form an incohesive jumble. Juno's is a lesson in careful curation and the importance of asking collaborators for advice. The end result has a truly personal feel to it, like a mixtape made by your best friend. I will be forever grateful for the way it brought Dawson from Seattle's musical underground to the bedrooms of teenage girls around the world.
Support our independent journalism and receive monthly film recommendations, exclusive essays and more
Published 15 Mar 2022