Terence Davies explores the tragic and complex life of World War I poet Siegfried Sassoon in this elegantly moving biopic.
Terence Davies' eighth narrative feature begins with an elegy for fallen soldiers. As a trainload of eager young recruits depart for the Western Front, flickery black-and-white newsreel footage shows the grim fate that awaits them.
A man's voice speaks ruefully over these scenes of hope and despair. It belongs to the film's subject, Siegfried Sassoon (Jack Lowden), who fought in World War One and wrote poems about his experiences. His letter 'A Soldier's Declaration', printed in 1917 and controversially read before the House of Commons, was perhaps the strongest anti-war statement of its day. It shaped the course of its author's life.
Although Sassoon was to all intents and purposes a conscientious objector (a status he actively sought out, despite the potential death sentence it carried), his privilege and growing reputation among the social elite saw him avoid a court-martial. Instead, he was declared unfit for service and packed off to Craiglockhart War Hospital on the outskirts of Edinburgh to recuperate.
It's at this point in the film that Sassoon's "dark secret" is exposed, if only to the viewer: he was gay, and like every gay man of his generation, he was forced to hide it.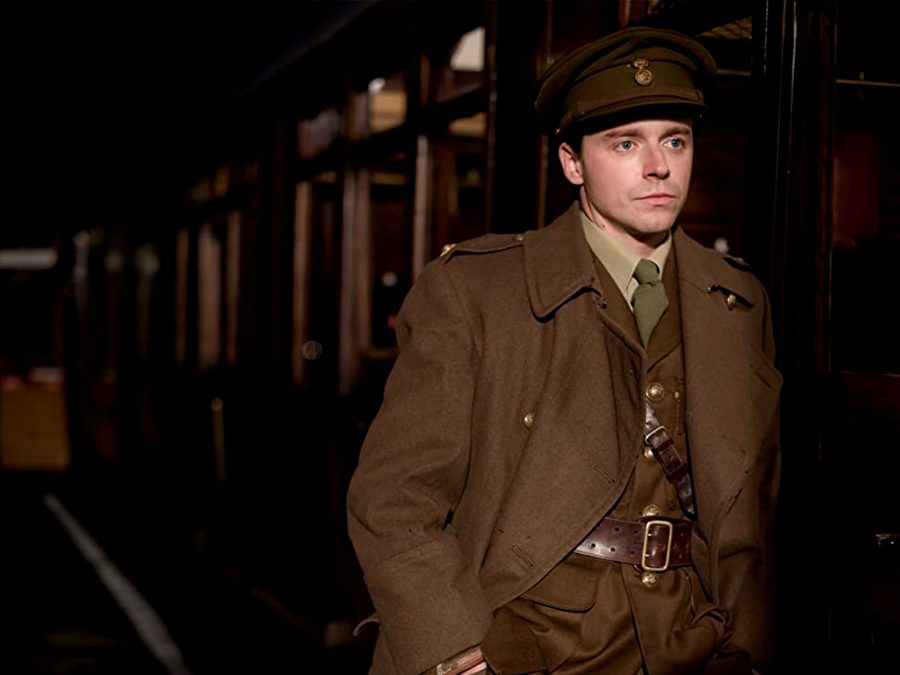 In Scotland, Sassoon meets a shell-shocked aspiring poet named Wilfred Owen (Matthew Tennyson), whose own provocative ode of remembrance, 'Disabled', is read aloud by Lowden at the end of the film. Written while Owen was laid up and published posthumously, it depicts an injured soldier who returns home to find himself the subject of pity; his severed legs a symbol of impotence and worthlessness.
Benediction repeatedly grapples with this theme. Like the paralysed private of Owen's poem, Sassoon is portrayed as being damaged beyond repair – psychologically if not physically – and deeply resentful of those who are able to carry on with their lives without fear of discrimination or sanction.
Back at Craiglockhart, a languid tracking shot along the length of a tennis net signals that it will soon be time for Wilfred to return to the trenches. Upon his leaving, Siegfried asks him to stay just a moment longer, to which he obliges. Those few snatched seconds, as the two men stand awkwardly in the driveway, neither daring to cross the invisible barrier that is keeping them from embracing, seem to last an eternity.
We know as well as they do it will be the last time they see each other. Owen wrote several other poems about the horrors of war before his untimely death in 1920, and there is one which Davies does not feature here whose title nonetheless captures the mournful spirit of his film. It's called 'Anthem for Doomed Youth'.
Little White Lies is committed to championing great movies and the talented people who make them.
By becoming a member you can support our independent journalism and receive exclusive essays, prints, monthly film recommendations and more.
Published 16 May 2022
Anticipation.
A Quiet Passion was a rare misfire from Davies… Can he get back to his best?
Enjoyment.
And how. A mournful and magnificent ode of remembrance that lays bare the folly of war.
In Retrospect.
"What passing-bells for these who die as cattle?"