Damien Odoul crafts an intriguing yet monotonous cinematic odyssey through the visions of a young man with Down's syndrome.
There is something Ulyssian about Damien Odoul's ninth feature film Theo and the Metamorphosis. Much like Joyce's epic in its wandering narrative progression and general opaqueness, the film is a one-man odyssey: over the course of a day, hero Theo (Theo Kermel, an actor with Down's syndrome), who goes by TO, encounters family, friends, strange visions and memories in the depths of a French forest.
TO, in his late twenties, lives with his father (Pierre Meunier) in an isolated wooden cottage, all Grand Designs rustic chicness and modern touches. Their daily life is divided between the chores of chopping wood, gathering materials and animalistic playfighting that hovers on the border of fun and genuine violence.
His father is a photographer and wannabe lumberjack. He also seems to be teaching TO martial arts with the aim of making him a "peaceful warrior." Such is the variety and undeniable wackiness of Odoul's film which defies easy definition. There's observational documentary camerawork at play, coupled with a surrealist fantasy aesthetic, while TO's voiceover adds a poetic tone and interior reflection on his Down's syndrome, his relationship with his father and his artistic pursuits.
All of this combines to create an enigmatic portrait of a young man that withholds slightly too much from the viewer to feel truly engaging. When TO's father leaves for an exhibition of his work, the protagonist is left to fend for himself in sometimes delightful ways – figuring out how he can play table tennis by himself, for example. There are more cryptic means, too: a pet snake becomes an empress who helps TO transform into a serpent-woman, then a ninja emerges in the forest to fight him.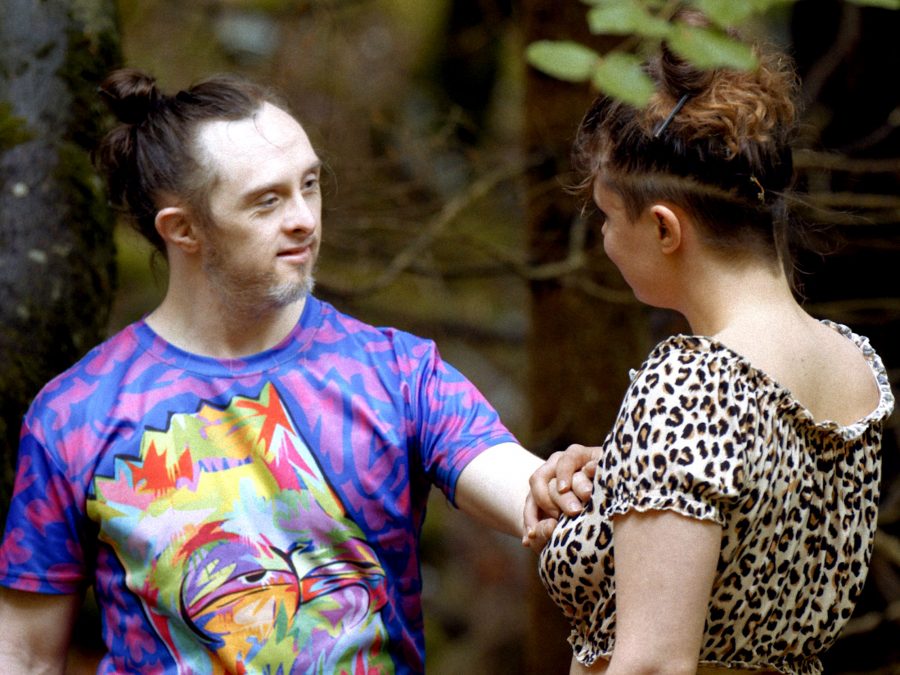 But, overall, is this really anything more than the so-called "mystical disability trope" on full display? Odoul paints TO as a powerfully magic being, dancing around the forest and becoming one with the elements. While there is a playfulness to this in the film, it leans towards Othering its lead – and by extension people with disabilities – as somehow being unknown, different, set apart.
This is not to say that films about disabled people need to focus on their condition or present it in a grimly social realist light. The sad reality is that cinema has yet to truly offer equal opportunities to all people of different abilities, and that means there are so few depictions of disabled people living ordinary lives, and therefore applying either the "mystical" or "damaged" cliché can be equally troubling. Even as TO's quest revolves around personal freedom, individuality, and reaching a quasienlightenment, there is a conflict between his agency and the film's metaphysical tone.
There are small moments of intrigue and beauty, but these are clouded by the general sense of concern over the film's handling of TO's Down's syndrome as its central conceit. Not only does TO begin to feel alienated, the stream-of-consciousness style and wild ideas thrown into the mix serve to create a further distance in understanding. There is the sense that a touch more cohesion and structure could have elevated this to something more interesting.
Little White Lies is committed to championing great movies and the talented people who make them.
By becoming a member you can support our independent journalism and receive exclusive essays, prints, monthly film recommendations and more.
Published 22 Jun 2022
Anticipation.
A 2021 Berlin Film Festival selection with a potentially interesting narrative.
Enjoyment.
Intriguing in parts but difficult to fully grasp.
In Retrospect.
The "mystical disability trope" at play here ultimately clouds the overall appeal.