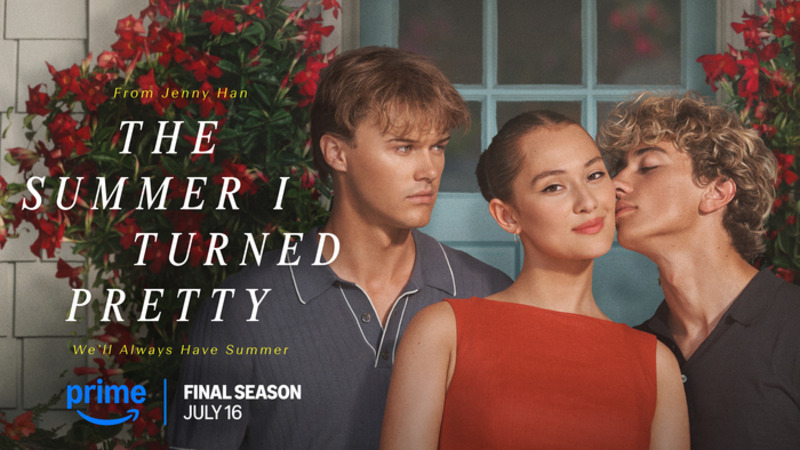 Based on a book series of the same name, The Summer I Turned Pretty was an instant hit upon its release last month. The first season focused on the first book of the series and fans were not disappointed. Newcomer Lola Tung portrayed the beloved Belly Conklin, alongside Chris Briney as Conrad Fisher and Gavin Casalegno as Jeremiah Fisher. With both fan favorite moments from the book incorporated word-for-word and new storylines and characters, it was the perfect weekend binge-watch.
Belly Conklin is excited to spend another summer at Cousin's beach with her mom, brother, her mom's best friend Susannah, and her two sons Conrad and Jeremiah. Belly has always been in love with Conrad and is hoping that this might just be her summer where she finally ends up with him. She no longer is the awkward outsider that she used to be with glasses and braces. This summer is going to be different for her. When Susannah gets Belly an invite to the debutante ball at the country club, Belly accepts. She gets assigned to a "big sister" named Nicole, who is currently seeing Conrad. Accepting that she can't be with Conrad, Belly begins to date a local boy named Cam. Cam's the perfect boyfriend, but he isn't Conrad.
As the summer goes on, Belly learns a lot about friendship, love, and family. She ends up breaking things off with Cam knowing that he isn't the one, but that causes an even bigger dilemma for her. She finds herself in a love triangle with both Fisher brothers, and doesn't know what to do. Jeremiah is the perfect boy, he's funny and always in a good mood. Whereas Conrad is broody, still seeing Nicole, and not always friendly. She knows that she can only pick one, and she doesn't know if she will ever move forward from Conrad. As the debutante ball approaches, she's running out of time to figure out who she's going to ask to be her date.
Conrad Fisher is the older brother and despite how closed off he may seem, he's the most emotional. He's close to his mother and is constantly helping around the house. Throughout the season, those who have not read the book, may be confused about how he feels about Belly. At certain times it is clear there are feelings there, despite the fact that he is with Nicole. He isn't happy about the fact that Belly is dating Cameron, and this usually leads to outbursts from him. How he treats Belly varies. He can be a nice guy or sometimes he's the opposite.
Unknown to Belly and the other characters, Conrad knows a secret about his mother that's causing a lot of his troubles. He hasn't told anyone he knows and it's something that he has been keeping to himself. He also has moments with Belly such as almost kissing her and helping her win the debutante volleyball match that had fans swooning.
Jeremiah Fisher is the younger brother and is definitely much more immature than Conrad when it comes to his emotions. He's lifeguarding at the country club for the summer and is the more flirtatious brother. When Belly arrives in Cousins for the summer, he's excited to see her. Jeremiah quickly becomes jealous of how much she likes Conrad. He even goes as far as sabotaging what could've been Belly and Conrad's first kiss by shooting a firework in their direction.
Jeremiah later reveals to Belly that he likes her more than a friend. This isn't a surprise considering Cam had brought this up to Belly while they were dating. He thought it seemed that she had something going on with Jeremiah. After this exchange, Belly and Jeremiah end up kissing, blurring the lines of their friendship even more. This leaves Belly even more confused, since she is now stuck in a love triangle with Conrad and Jeremiah.
Some of the other supporting characters included Shayla, Nicole, Taylor, and Cleveland. The addition of new characters (Nicole, Shayla, and Cleveland) and tying them into the main plot worked seamlessly. They served as plot points for the main characters and really even shined on their own. Hopefully all of the season 1 characters return for season 2, as I felt they were imperative to the storyline.
As a fan of the books, I really enjoyed the direction they took the show. I liked seeing some of my favorite characters and moments on the screen. At first I was unsure about the addition of the debutante ball storyline, but I think it added so much to the story. Even though I knew the ending of the book, I found myself wondering who Belly would end up with as her date to the debutante ball – Conrad, Jeremiah, or even Cam. This was one of my favorite book to TV show adaptations, the acting was great and it didn't stray too far from the original plot.
Season 2 has already been confirmed and production has already started! I cannot wait for the release of season 2 and I have very high hopes for it. I hope to see them stay true to the second book, yet add in new characters and storylines. Some top moments that I want to see are Conrad and Belly at prom, Belly and Jeremiah helping Conrad study for his final exams, and the party that Belly and the boys throw at the beach house. Although, *spoiler alert* in the second book, Belly ends up with Jeremiah. As someone who is currently Team Conrad, I know the season may be a little difficult for me.
What did you think about season 1? Let me know in the comments and make sure to include if you're either team Conrad or team Jeremiah!