A family embarks on a perilous road trip in Panah Pahani's assured, darkly comic debut.
Nothing says Iranian New Wave like cramped road trips, mesmerising wide shots, long takes, a leisurely pace, child actors and deceptively low narrative stakes that escalate into much more complicated conundrums. While containing all the ingredients mentioned above, Panah Panahi's beautifully-crafted debut feature is compositionally robust, with phenomenal camerawork, grading and blocking to boot.
The film's political agenda and overall critique of the predicaments of Iranian society and politics remain elusive enough as to be able to circumvent the stringent auspices of government censors. In this affecting film, Panahi's use of dramatic space firmly places him within the movement that his father – the great Jafar Panahi – is revered for. The stylistic and narrative influence of his father, as well as his mentor Abbas Kiarostami, are both palpable.
Hit the Road opens in media res and keeps its impetus ambiguous throughout. We follow a family driving down a long desert highway with nostalgic '70s-era Iranian pop music providing the soundtrack to their journey. We learn that they have sold their home and have left everything behind – all except their ailing dog Jessie, who joins them on the trip. Their journey is set to culminate in an attempt to smuggle their eldest son, Farid (Amin Simiar), out of Iran.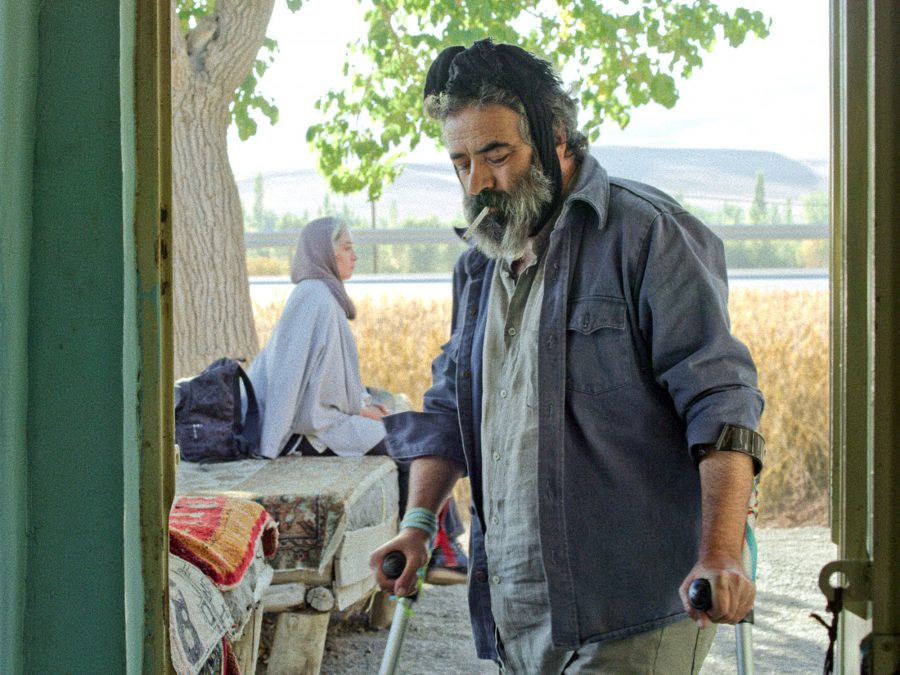 The constantly upbeat younger son (Rayan Sarlak) remains completely oblivious to the situation, and exudes a manic energy that's equal parts grating and delightful. At no point are we promised any resolution, or given any clear indication as to why this journey has to take place. We remain merely one step ahead of the naive younger son. All we have is a glimpse into a family on the precipice of something that's underpinned by a lurking trepidation. We're left to guess what that unseen something is, who these people are and where exactly they're going.
Yet Panahi's film aptly draws intimacy from meandering conversations and generates suspense from the seemingly mundane, while it maintains an aura of surreal whimsy through its constant recourse to irreverent humour. To retain the secrets of the plot and make the film experience as compelling as possible, Panahi deftly oscillates between sardonic humour and engrossing tragedy, successfully eluding any narrative frustration.
The film's tender emotional core is its greatest asset, which is enhanced by inventive tonal shifts and complemented by incredibly fleshed-out characters, a uniformly brilliant cast and naturalistic dialogue that keeps it from lurching into the terrain of sterile realism. Panahi even weaves in a heartfelt sequence of magical realism prompted by a (non-spoiler friendly) discussion on 2001: A Space Odyssey between the father (Hasan Majuni) and younger son, who are framed lying on the grass, which slowly transforms into a starry night's sky.
Little White Lies is committed to championing great movies and the talented people who make them.
By becoming a member you can support our independent journalism and receive exclusive essays, prints, monthly film recommendations and more.
Published 26 Jul 2022
Anticipation.
Does Panahi Jr have something unique in store?
Enjoyment.
Wholly compelling and with dashes of Iranian New Wave lyricism. Plus a very excellent dog.
In Retrospect.
A big win for nepotism.