Andrew Dominik's warts-and-all portrait of tragic Hollywood icon Marilyn Monroe is as surreal as it is sad.
When Marilyn Monroe died on 4 August, 1962, her legacy was writ in water. The bulk of her estate passed to her beloved acting coach Lee Strasberg who passed soon after, leaving her fortune and the rights to her life and image in the hands of his new wife, Anna Mizrahi who Monroe had never met.
From that moment on Monroe was up for sale, with her image and story available to the highest bidder that fuelled an enduring obsession with the tragic star. Inane quotes are continually falsely attributed to her; burial spot next to her went to Hugh Hefner, who published naked pictures of her without her consent; and this year Kim Kardashian walked the Met Gala red carpet in one of her beloved gowns before being grotesquely gifted a tuft of her blonde hair. The actress who radiated an almost divine screen presence across her short career, devoted herself to her craft, and succeeded under insurmountable odds, has at no point been allowed to rest in peace.
There have been myriad books, films and documentaries on the late star but perhaps none so highly acclaimed as Joyce Carol Oates' 2000 novel 'Blonde'. The book starts with a fore-warning, this is a "distilled 'life' in the form of fiction exploring a small selection of Monroes life symbolically", for those in search of the cold hard facts Oates even goes on to recommend a series of biographies that she consulted. Andrew Dominik's long-delayed and highly anticipated film adaptation takes the novel and massages it further into the realm of unadulterated fantasy. This is not so much a biopic as it is a surreal tragedy about the impossibility of being Marilyn Monroe.
Starting with her abusive childhood the film skips forward to Marilyn as an up-an-coming starlet, making a decent living as a model but dreaming of making it as a legitimate actor. The film is self-consciously strange from its first moment, with a blizzard of tones, aspect ratios and switches from colour to black-and-white. The so-called male gaze flickers on and off but leans into spectacularly leering territory when our protagonist is being objectified by the people around her.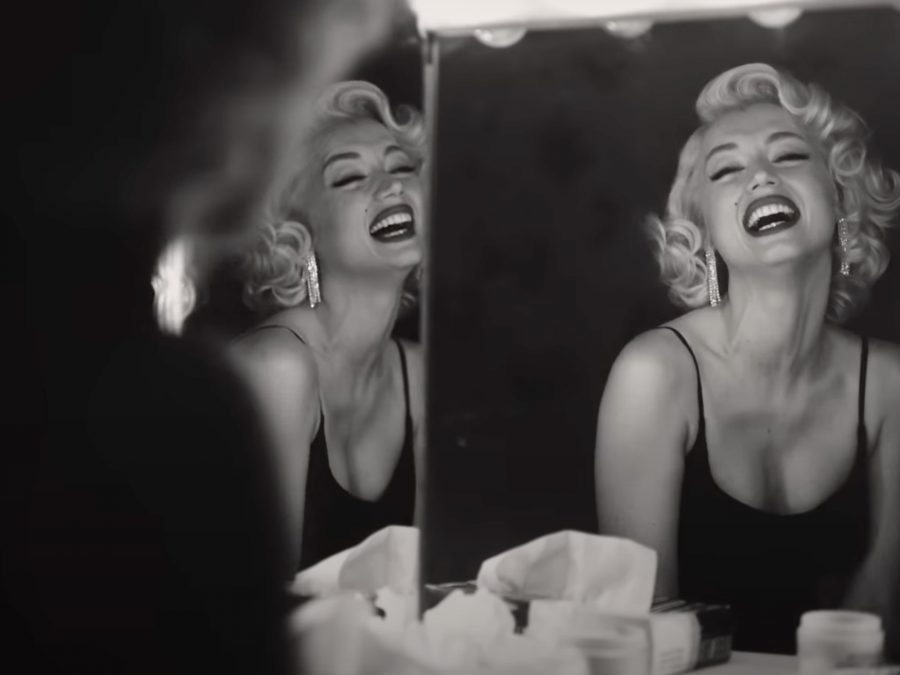 This results in a film so loaded with filmmaking flourish and so committed to subjectivity it is dazzling to behold. Ana de Armas is bewitching in the role, with her faint accent only enhancing the artifice of Monroe, but at times holds such a close resemblance to the star it feels like an AI generated deep-fake might be being used. Her Marilyn falls squarely in the "uncanny valley" where the resemblance is unsettling, even sinister, which builds upon the film's fascinating central conceit, that this isn't Marilyn this is an ungodly approximation, poured through 60 years of her story being bastardised.
Dominik has Monroe running through a series of fun-house mirrors, be it in sexual ecstasy with a temporarily satisfying polyamory; the famous The Seven Year Itch where her skirt rises again and again in front of a baying mob of perverts; or the sun dappled romance of her honeymoon with Arthur Miller. What's most exciting about Dominik's vision is that it pieces together the most famous images of Monroe to create a collage that pays homage to her ultimate unknowability.
This is not a film that many will feel neutral about. For all that it is an exhilarating and highly accomplished opus for Dominik the explicit nature of it will alienate many, particularly when it comes to an early rape scene and a bone-chillingly bleak blow job performed on JFK. What is undeniably egregious is his choice to regularly insert the camera into Monroe's womb, showing unborn foetuses and abortions from the cervix's perspective.
While it's near impossible to coherently defend that choice, the anarchy of Blonde is ultimately its greatest strength. And while many detractors may feel that this descent into dark erotic chaos is a betrayal of Monroe's legacy, perhaps it most apt that Blonde reminds us that we had no ownership over Monroe, or her story, from the start.
Published 23 Sep 2022
Anticipation.
Andrew Dominik's salty interviews only make Blonde more intriguing.
Enjoyment.
Spectacular images and de Armas' radiance can't quite make up for some very dubious artistic choices.
In Retrospect.
Utterly beguiling chaos.