When thinking of iconic director-actor pairings, our minds tend to conjure up the likes of John Cassavetes and Gena Rowlands, Sofia Coppola and Kirsten Dunst, Ingmar Bergman and Liv Ullmann, and Paul Thomas Anderson and Daniel Day-Lewis. One that is not as often brought up in these discussions, despite being highly worthy, is the masterful duo of German filmmaker Christian Petzold and actor Nina Hoss, whose creative relationship dates back to 2001 and so far consists of six collaborations.
The most recent of their cinematic offerings is Phoenix, an atmospheric melodrama with noir undertones released in 2014. Loosely based on Hubert Monteilhet's 1961 French novel Le retour des cendres and co-written by the late Harun Farocki, Phoenix serves as the second installment of what Petzold has labeled his 'Love in Times of Oppressive Systems' trilogy, which also encompasses 2012's Barbara and 2018's Transit. Set in the immediate aftermath of World War II, Germany's reconstruction looms largely in the background of this deeply compelling character study, but more than anything, Phoenix is a culmination of the pair's work together and a showcase for Hoss' beguiling presence as a performer who understands how to express a character's feelings while working within Petzold's minimalist style.
The film opens with Nelly Lenz and her friend, Lene (Nina Kunzendorf), as they pass through an American checkpoint at the Swiss-German border at night. Nelly's face is masked behind bloody bandages as she sits hunched over in the passenger seat. A concentration camp survivor, Nelly has become disfigured after suffering a bullet wound to the head and must undergo facial reconstruction surgery, though recreation would be a more fitting word. She wants to look the same as she did before, but the doctor warns her that it won't be possible and renders a visage that bears only a vague likeness. Still presumably dead to many, she is a ghost who, in her own words, "no longer exist[s]."
With a brand new face and no living family left, Nelly has lost her entire identity and sense of self, now merely a shell of a human. In an early scene, Nelly catches a glimpse of her face, which is still bruised and healing, for the first time since removing the bandages. Looking into a shard of mirror at the site where her former home once stood, it appears fragmented and unrecognizable. Hoss effectively communicates the horror and shock of what she has just seen, and the internal turmoil of coming to the realization that she must live with it for the rest of her life.
Fueling Nelly's will to survive is the hope of reuniting with her husband, Johnny (Ronald Zehrfeld), despite Lene's warnings that he was the one who gave Nelly up to the Nazis, and that she should leave Germany behind to settle in Palestine. She wanders Berlin's streets of rubble day and night in search of him, and when she finally finds Johnny, he is busing tables at the Phoenix nightclub in which they used to perform – she was a singer, he was a pianist. He doesn't recognize Nelly, and she introduces herself as Esther. Johnny, who believes his wife died during the Holocaust, is struck by a slight resemblance in 'Esther' that makes him think she can help him scheme to gain access to Nelly's family inheritance, which they would split. Nelly goes along with the plan, holding back on telling him the truth in order to figure out if he betrayed her, and – ultimately – because he is the only thing remaining connected to her past life.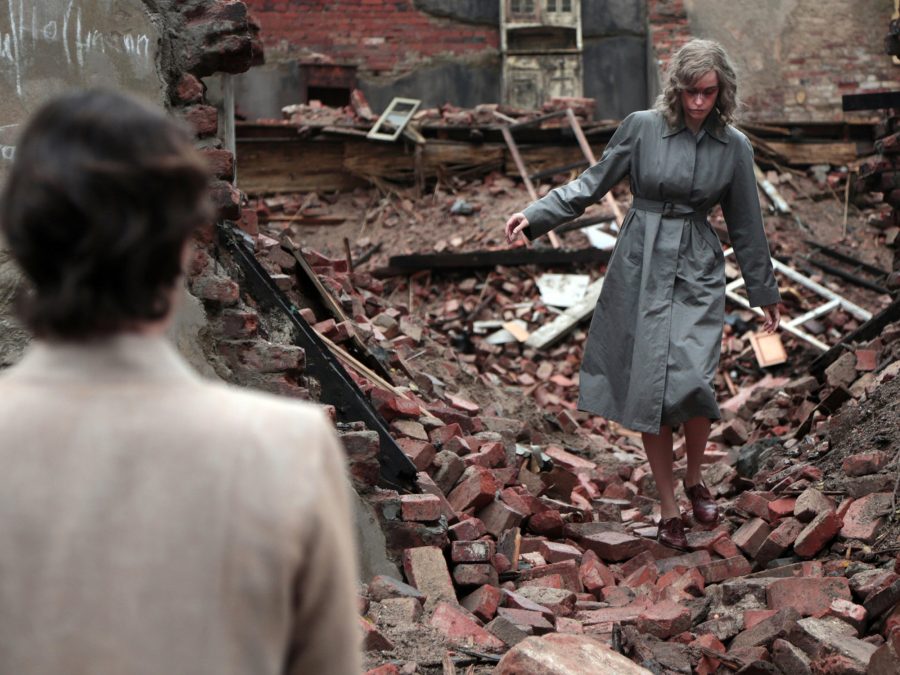 Johnny thus coaches Esther/Nelly to be her old self by teaching her to imitate her own handwriting and gait. He buys her a red dress from Paris and gives her a pair of her own old shoes, remaking her in his own image rather than choosing to become aware of the harsh realities that would force him to confront the role he played in Nelly's arrest.
Yearning to return to her old life, Nelly is plagued with denial as she refuses to let go of the belief that her one true love had nothing to do with her incarceration. She desperately wants to be remembered, and more importantly for Johnny to see her for who she truly is. Hoss' intense and expressive face translates every glimmer of desire and hope as she must simply exist while waiting for Johnny to recognize her. It's a testament to her restraint that we believe this complicated and seemingly implausible tale to be realistic.
Hoss has one of the most spellbinding faces in cinema, evoking the ethereal stars of the old Hollywood era. It carries the ability to communicate everything that Nelly cannot bring herself to verbally articulate in a film that is full of deafening silences, shifting from sorrow to vulnerability to resentment within the blink of an eye. Hoss has a ghostly presence that conveys the emotional weight apparent in every step of Nelly's transformational and healing journey. In what essentially treads the line of a meta role as Nelly becomes her own doppelgänger, Hoss brings a subtle yet affecting physicality as she swiftly maneuvers between these two different versions of herself.
In the final moments, Nelly sings 'Speak Low,' the melancholic 1943 ballad by Kurt Weill and Ogden Nash, which plays several times throughout Phoenix, to the point where it haunts the film just as much as its characters do. Performing in a restaurant for friends from their former life with Johnny accompanying on the piano, Nelly releases the pain and emotion that has been internalized for so long while finally confronting the truth. It is here that Hoss unleashes her astonishing talent; it is beautiful, powerful, and heart-shattering in equal measure to watch Nelly reclaim control of herself and her own voice. Like a phoenix rising from the ashes, she has experienced her own rebirth.
Published 11 Jan 2023