Part of the great joy of cinema is that it seemingly has no limits – great films have the capacity to transport us to entirely different worlds, challenge our perceptions, and show us something we've never seen before. As such, this world of possibilities has the potential to strike a chord with anyone, no matter their identity or background. Cinema is, in short, for everyone.
Unfortunately that's not quite the reality, and there are still huge barriers to accessing film for many, including geography, finances, and consideration of how disability impacts the film-viewing experiences. From venues without wheelchair access to the continued difficulty in accessing captioned and audio-described screenings, for many people with disabilities, popping down to catch a film often is far more of a mission than it should be.
Thankfully there are more people than ever before dedicated to changing this, championing better access across the film industry, for fans, filmmakers, exhibitors and distributors. Matchbox Cine are one such group, specialising in creating access resources and advising companies across the industry on best practice. They also put on screenings too, with past events including Cage-a-rama and KeanuCon.
Now Matchbox Cine have teamed up with Film Hub Wales, Inclusive Cinema, Film Hub Scotland and the Independent Cinema Office to create an amazing new resource based around improving accessibility and bringing as many films as possible to the widest audience. Sidecard is an online database which contains information about subtitles, audio description and other resources, with the aim of bridging the gaps between filmmakers, distributors and exhibitors, so it's possible to show more cinema that is accessible for people with disabilities.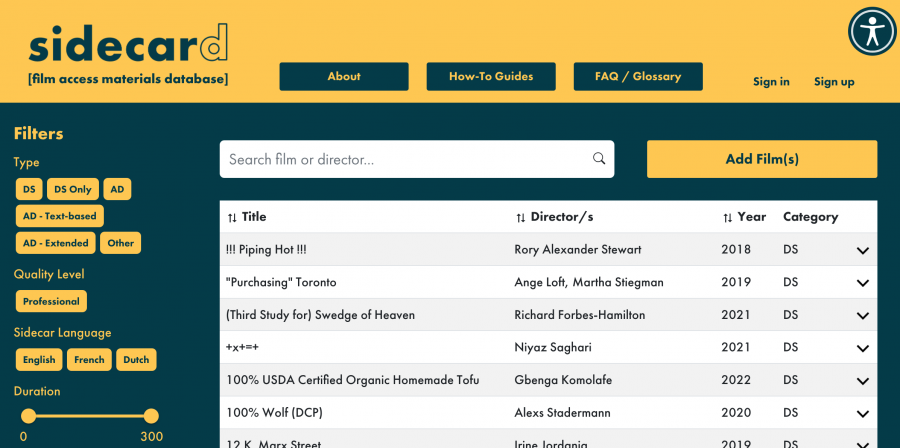 "As a deaf film lover, I know too well how difficult it is to access movie-going due to a lack of accessible screenings, with cinema provision of captioned screenings far and few in between," says Charlie Little, Matchbox Cine's in-house access consultant. "As someone working in the industry, I often come across filmmakers and distributors who have access files for their films, but this availability isn't communicated to cinemas and exhibitors. When films don't have access materials, some festivals and exhibitors take it upon themselves to commission the production of these files so they can host accessible screenings, and these files don't hold a legacy or aren't passed on for further use."
The website contains a searchable database of films that have materials available including subtitle tracks and audio description files, as well as suggested contacts for securing these, which is a valuable resource for anyone looking to put on a screening. There's advice and resources available for filmmakers, festivals and distributors about creating access materials for films as well as best practice, and Sidecard also serves as a valuable reminder that accessibility shouldn't be an afterthought or a luxury, but rather something considered at every step of a film's lifecycle.
Published 23 Mar 2023