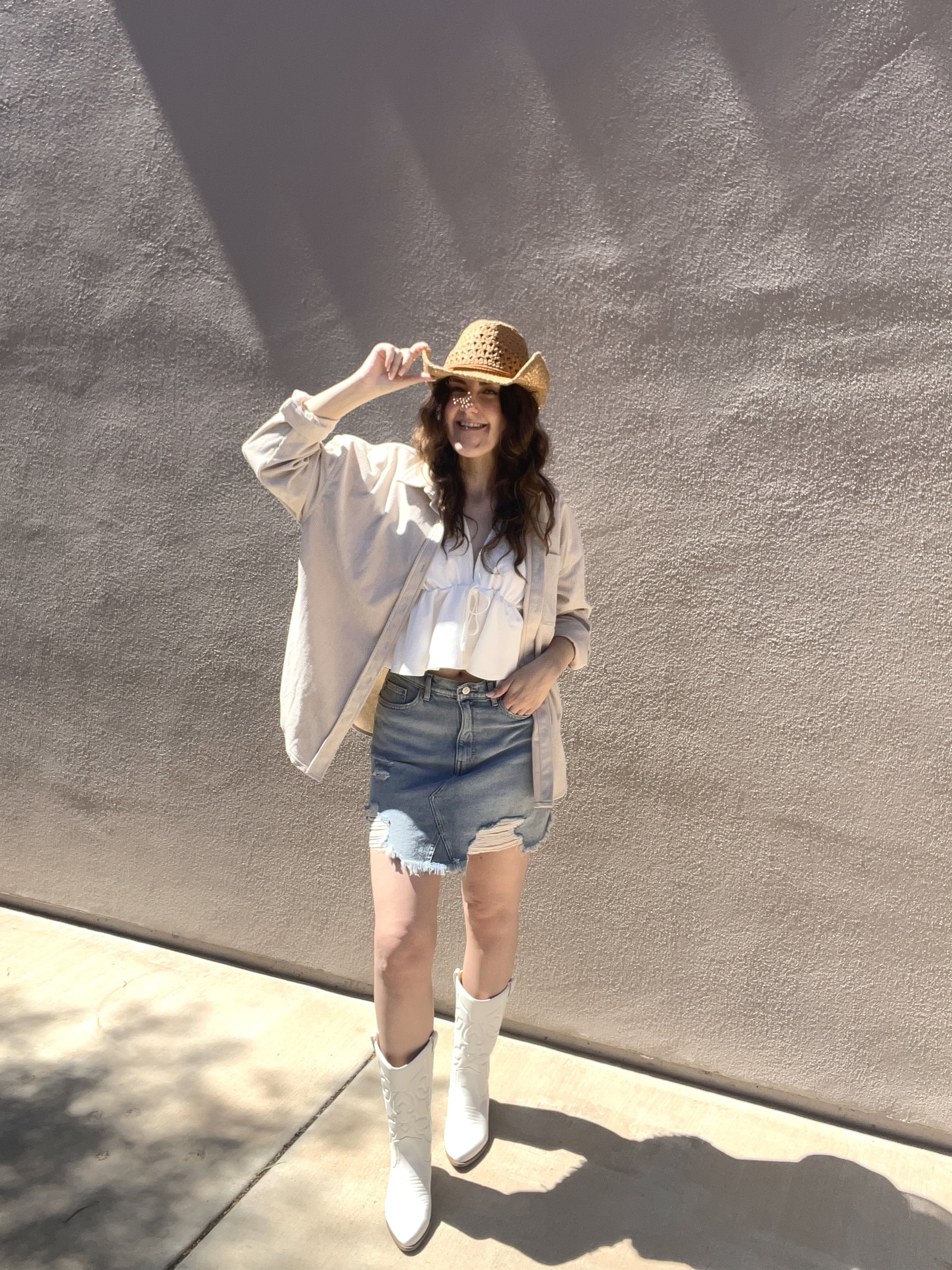 Keeping up with TikTok's ever-evolving rolodex of fashion trends and aesthetics can honestly feel like a full-time job in itself. Every week, it seems like there's a new style or pop-culture-inspired look that's dominating the conversation — and, more often than not, my feed. While I usually try to avoid getting too caught up in the platform's sea of style trends, I was baited in all too easily with last year's coastal-grandma aesthetic (aka my full-time outfit inspiration) and have once again felt lured into trying this year's hottest fad: the coastal-cowgirl aesthetic.
With trend forecasters predicting that beachy, country-chic-inspired outfits will be everywhere this summer, I decided to test out the aesthetic for myself to see if it was truly as easy to master as TikTok influencers have made it out to be. With a little social media inspiration and help from Amazon, I put together the perfect coastal-cowgirl outfit for summer that's versatile enough to be worn to brunch, the beach, your next outdoor concert, and beyond. Best of all: the full outfit comes in at under $200 — cowgirl boots and all.
What Is the Coastal-Cowgirl Trend?
If you (like me) spent a borderline-unhealthy amount of time on TikTok last summer, then the coastal-cowgirl trend probably feels a bit reminiscent of the coastal-grandma trend, which, for the better part of 2022, delighted mature fashion girlies and Diane Keaton fans alike. The aesthetic followed a similar makeup with neutral color palettes, comfy pairings, and a commitment to clean silhouettes that played into a more coastal, beach-ready flair — think linen button-down shirts, ribbed sweatpants, and woven straw bucket hats. The coastal-cowgirl trend offers a more rural upgrade on the aesthetic with fewer cable-knit sweaters and more cowgirl boots. It's the type of look you'd don on the beaches of Texas or Alabama rather than to the Hamptons, though it still carries a minimalist elegance that's so easy to style — and better yet, even easier to afford.
How to Style the Coastal-Cowgirl Trend
As someone whose style doesn't necessarily lean into a country vibe — transparently speaking, the first time I've ever worn cowgirl boots in my life was this past week and all for the sake of this story — I decided to opt for a more muted take on the coastal-cowgirl trend by investing in pieces I felt could realistically be worn even after the trend fades. Given the aesthetic's coastal-inspired elements, I figured a neutral-heavy color palette would be most appropriate, so I paired the Remidoo Puff Short-Sleeve Top ($31) with the cozy Astylish Corduroy Button-Down Shirt ($36, originally $42) to create a balanced look up top. The cropped white blouse has an open-back design that's incredibly breathable (and perfect for warm summer days), while the corduroy layer adds such a soft touch to the look. I think it's the perfect piece to style for late nights or cooler beach days spent by the water.
I played around with what to wear for the bottoms because I've seen such a wide array of options on TikTok — some have opted for something classic like a pair of comfy jeans, while others have fully embraced the summertime vibes with breezy white linen pants. Given the warmer temperatures (and my desire to show off the bestselling Soda Cowboy Pointed Toe Boots ($50)), I teamed the outfit with the Atditama Ripped Jean Skirt ($30) for a leggier look. No coastal-cowgirl-inspired ensemble is complete without a rustic cowgirl hat to match, and this Melesh Sun Straw Western Cowboy Hat ($29) is one of my absolute favorites. The straw hat feels so primed for outdoor wear with its woven design, and I love that the accessory's mixture of brown shades helps to add more contrast to the rest of the ensemble.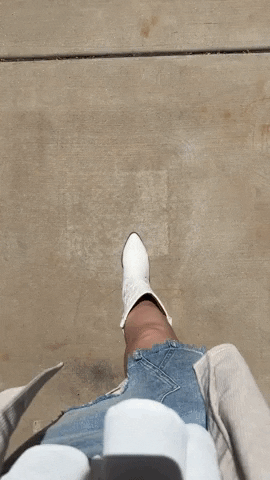 What I Like About the Coastal-Cowgirl Trend
When it comes to experimenting with TikTok fashion trends, I'm always wary of jumping into the fads too quickly. For one, I hate investing in pieces that I'm not confident will still be relevant or trendy come next season. And because of how quickly the aesthetics seem to come and go, I'm always worried that by the time I begin to incorporate the trends into my closet, something new will have already come along and replaced the aesthetic altogether (keeping up with fashion trends is a vicious cycle, folks). But with the coastal-cowgirl trend, I love how easy it is to embrace these styles without having to overcommit (or worse, overspend) on pieces that might feel dated by next year.
The white blouse, corduroy jacket, and denim miniskirt are all styles I can wear throughout the summer and well into the fall. Plus, with their versatile color palettes, it's easy to team them with just about any item in my closet. While the cowgirl boots and woven hat are a bit more niche, I still think they're both great buys. And even after the coastal-cowgirl aesthetic fades, I can still find new ways to wear them — whether that's to the beach, a concert, or even a girl's weekend in Nashville.
Where Are These Styles Available to Shop?
All of these pieces are available to shop on Amazon.
Rating:

Image Source: POPSUGAR Photography / Kyley Warren