The prospect of this anniversary issue has been something of an obsession for a number of years now. In the world of print magazines, you're constantly asking yourself the question: how can we do something special? But something special that's also achievable with the means at your disposal.
Thinking about this issue, the LWLies team and I wanted it to serve as a celebratory benchmark for our centennial – a difficult number to reach in the ultra-precarious world of independent publishing. We wanted the issue to look back and look forward, but also to not take its eye away from a present moment that captures the film industry in a state of curious flux.
What about the cover? How would it look and what would it say? Traditionally, we select a single cover film and the design inspiration derives from that finite point. But with this issue, the plan was always to expand our horizons, and so the boundaries for what we could or should put on the cover changed along with it.
One personal specification for this issue would be that it would deliver a sense of (hopefully positive) nostalgia for both the readers and the creators who have picked up and worked on the magazine in the past. But also, this one had to be an introduction to the brand and an inviting summation of our cinematic enthusiasms – not just a great issue 100, but a great issue 1 too.
So I've talked about what we wanted LWLies 100 to be, so maybe I'll say a little something about what it is. We ended up looking inwards, taking inspiration from our review scoring system and dividing the issue up into three chapters: Anticipation, Enjoyment and In Retrospect. Each chapter opens on a special personal essay addressing concerns of the past, present and future in the world of film. Then, there are three special features: the first looking at filmmakers; the second looking at films; and the third looking at the history of the magazine. The highfalutin concept has been used as an excuse to talk about the things we love and devise an editorial journey that you'll want to hold in your hands and keep forever.
You can't see it, but I'm getting a little teary-eyed just writing about this – it's emotionally overwhelming to just consider all the collaborators who have helped along the years to make LWLies what it is today. I've always believed that one thing that makes magazines unique is that they are a physical manifestation of the collective endeavour, where the work of writers, artists, illustrators, designers, researchers, proof-readers, editors and publishers can co-mingle and interact in a way that the digital world has yet to satisfactorily recreate. Anyway, we have personally thanked you all inside this issue.
A final thing: I hope she doesn't mind me saying so, but LWLies artistic director, Laurène Boglio, lives out in the Massachusetts countryside and all the creative elements of this issue were powered through a series of one-hour afternoon video calls. This has been the set-up since pre-Covid, and with this issue, even though it was a much more complex beast to grapple with, we got our method down to a tee. The joy of making magazines, the thrill of making decisions and examining the work of collaborators, working out the best visual pedestal to place it on, is completely captured in these calls.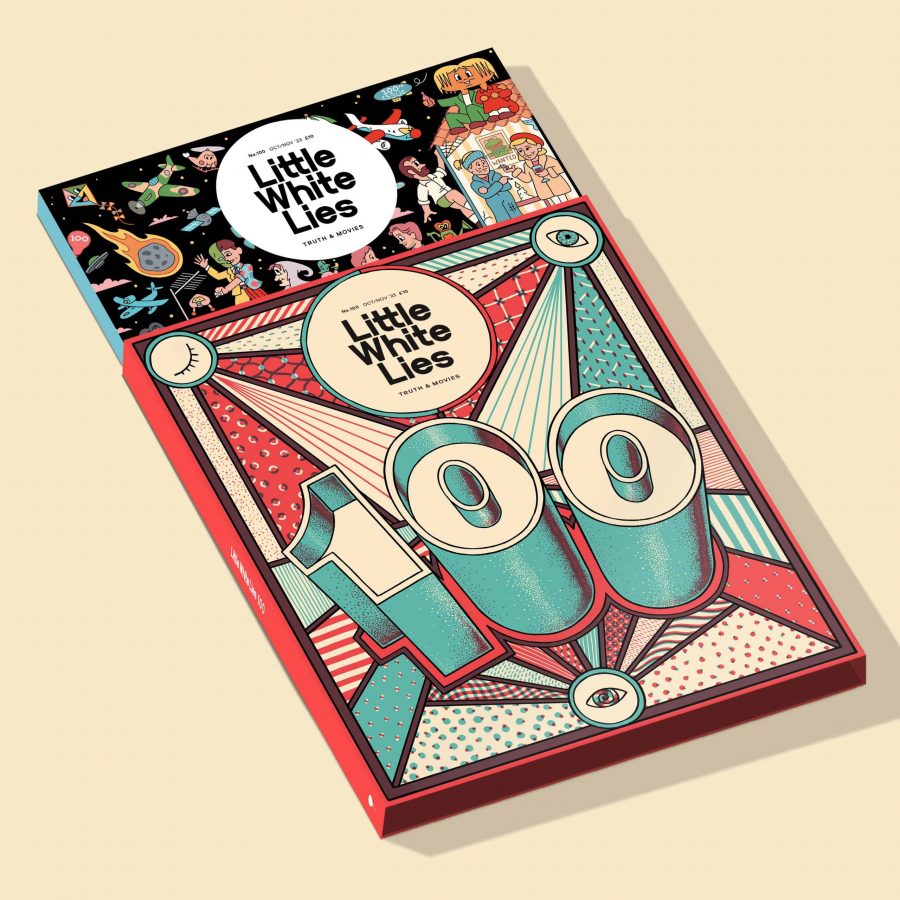 On the cover(s)
With a celebratory vibe in mind, a party theme emerged early on in our thinking about what would go on the cover of this special issue. We engaged four amazing artists each to provide a panel for a connective artwork depicting a huge, vibrant house party – how better to capture the films of the past two decades? If you look a little closer at the guests, you see that they represent every one of the films – and themes – that have been selected for our past covers. So when you pick up or receive your copy, you'll actually be holding one of four possible covers.
Cover 1: Bottom left (Issues 1-24)
By Zara Wilkins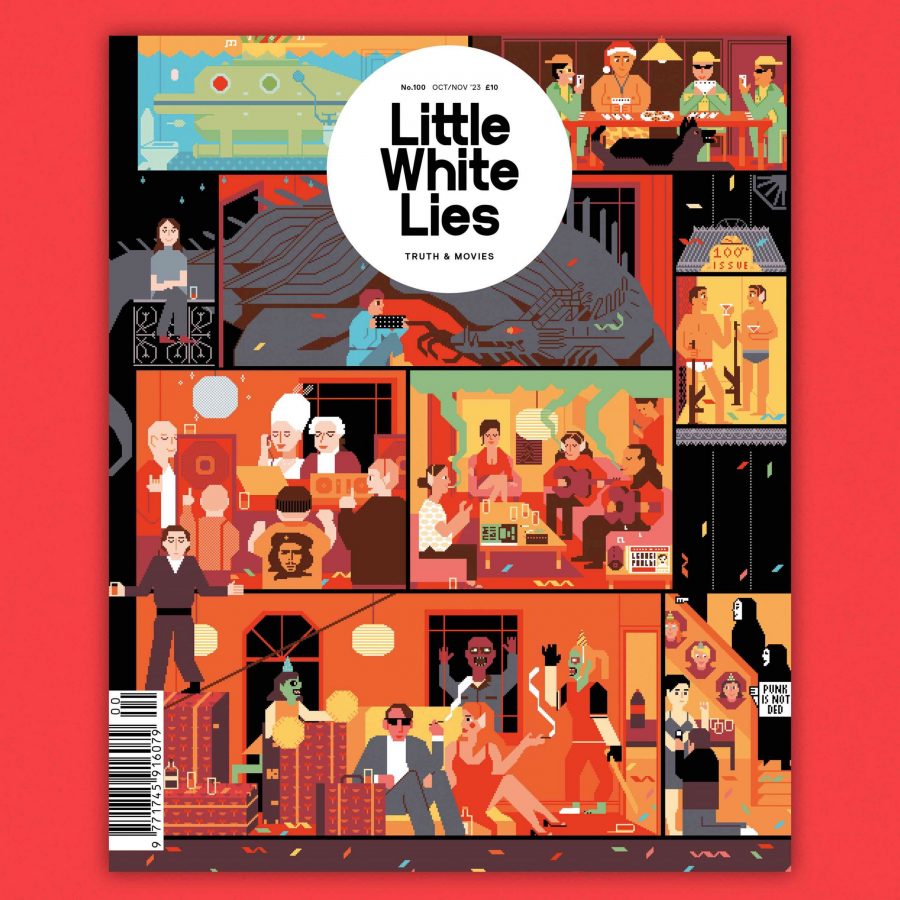 Cover 2: Bottom right (Issues 25-50)
By Tim Alexander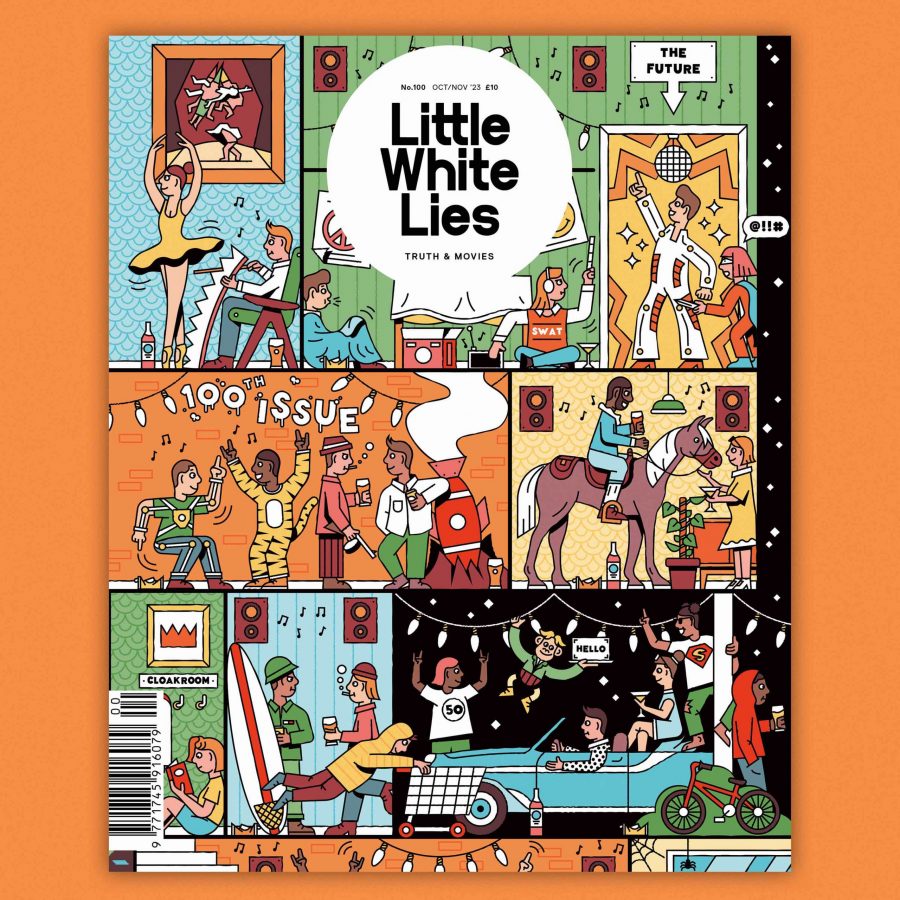 Cover 3: Top left (Issues 51-74)
By Kyle Platts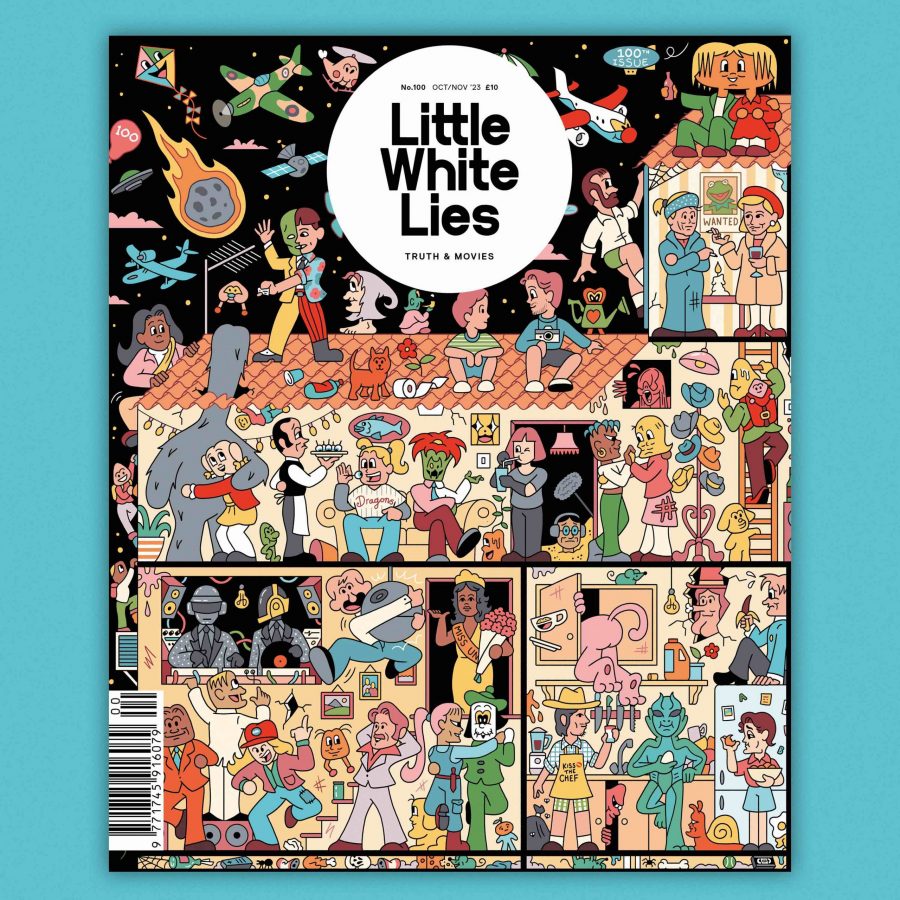 Cover 4: Top right (Issues 75-99)
By Murugiah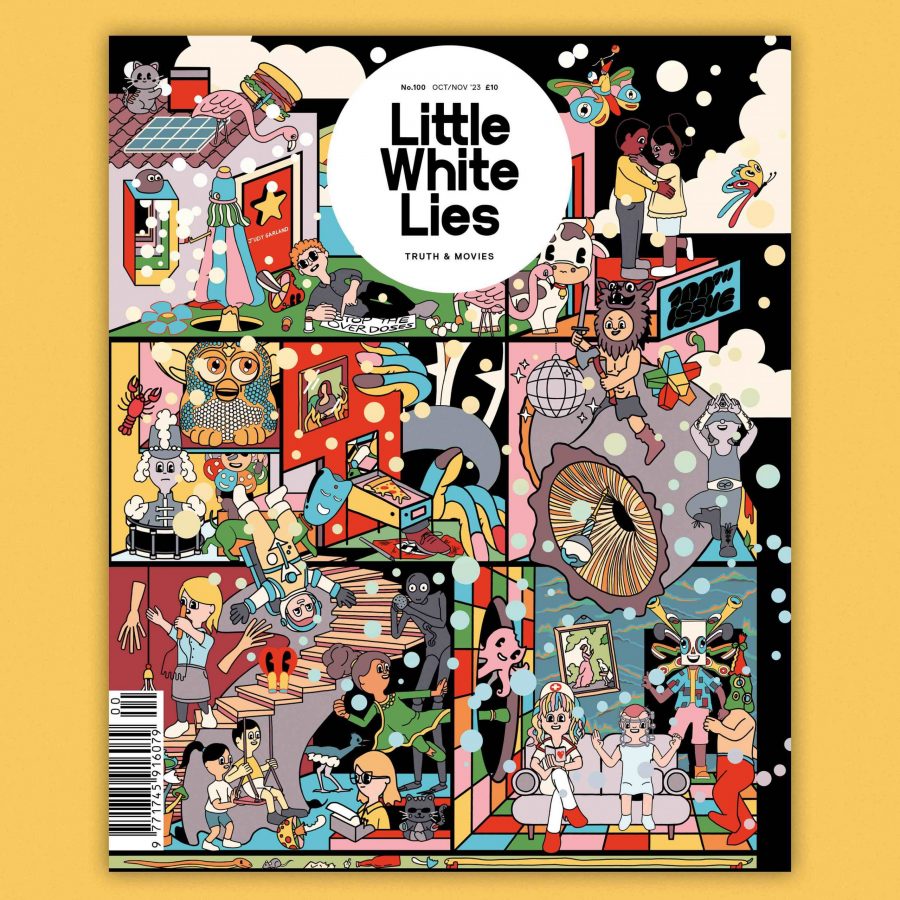 And, because we're not doing things by halves this issue, we also have a fifth cover that every reader will receive in the form of a special slipcase designed by our very own Laurène Boglio. The inspiration for this outer cover design comes from the three chapters of the book and is a work that represents the multiplicity of ways we can engage with cinema, and that cinema can engage with us.
Elsewhere in this issue we have new illustration work by Stéphanie Sergeant, Laura Backeberg, Drew Shannon, Ana Müshell, Frieda Ruh, Rumbidzai Savanhu and Nick Taylor.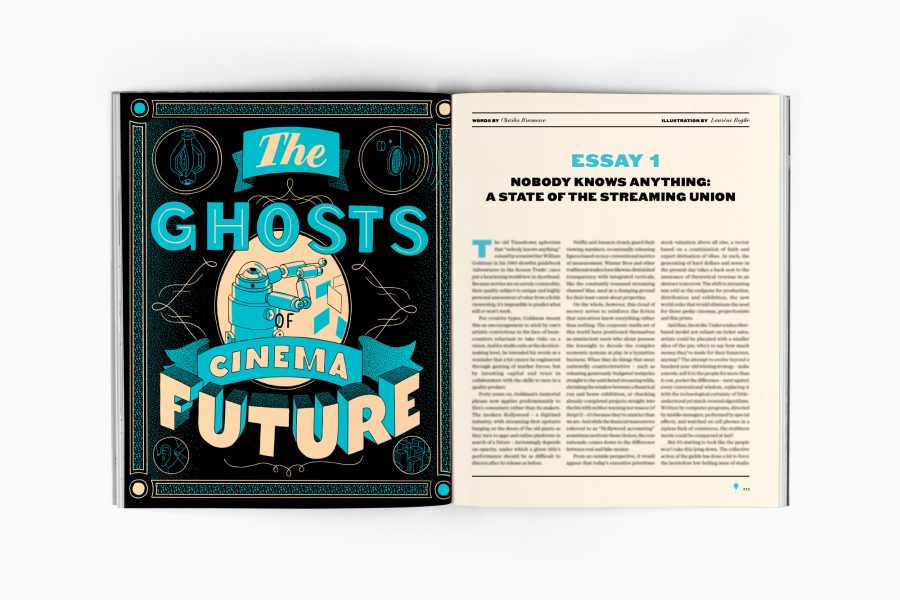 Inside the issue
Essay 1: The Ghosts of Cinema Future
Charles Bramesco is worried that our streaming overlords are dropping the ball and suggests a clever course correction.
In the Beginning…
Thirty-nine great filmmakers from around the globe talk exclusively to LWLies about the impulse that led them down the rabbit hole of cinema. Includes new interviews with Wes Anderson, Lulu Wang, Mark Jenkin, Alice Rohrwacher, Davy Chou, Isabel Sandoval, Pedro Almodóvar and Christian Petzold.
Essay 2: The Ghosts of Cinema Present
Hannah Strong reflects on the state of the multiplex and ponders whether the cinemagoing experience will ever be the same again.
Perfect 10s
Summing up the cinema of LWLies' lifetime (2005 to present) the only way we know how: with a load of irreverent top 10 lists.
Essay 3: The Ghosts of Cinema Past
Christina Newland opens her heart for a personal exploration into what it means to cherish old movies.
Print Matters
A visual journey through the LWLies publishing archives to demonstrate how the magazine has evolved over the years.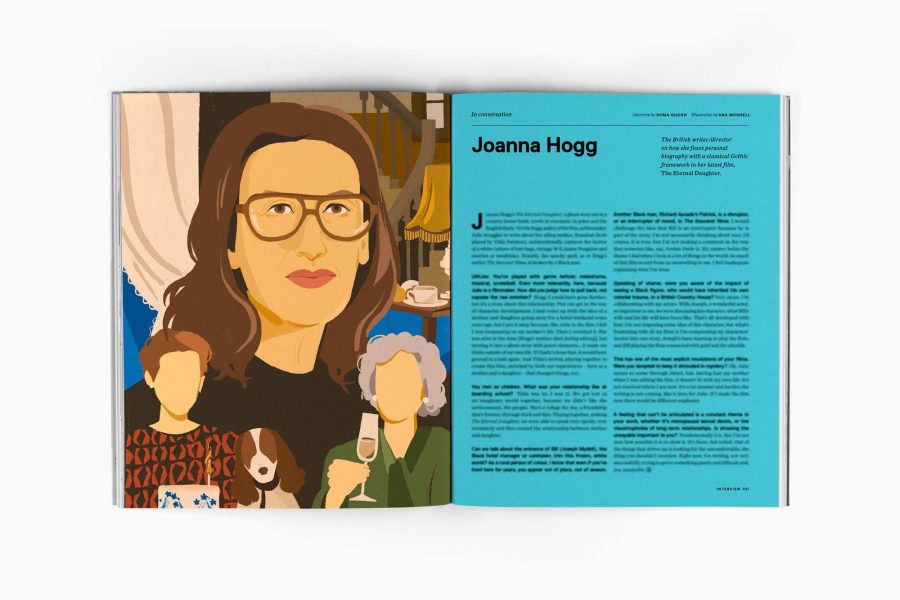 In the back section
Moviehunting: A guide to finding small gems
LWLies contributing editor Sophie Monks Kaufman charts her exploration at the fringes of film culture over the last decade, in search of rare, burnished jewels to call her own.
Interview: Joanna Hogg
Soma Ghosh meets the British filmmaker to discuss the subtleties and subtext of her intriguing, self-reflexive new work, The Eternal Daughter.
Interview: Carol Morley
David Jenkins chats with a filmmaker who naturally gravitates towards eccentrics and mysteries as she uncovers the life of lost artist Audrey Amiss in her new film, Typist Artist Pirate King.
Interview: Rodrigo Prieto
Anna Bogutskaya talks to Martin Scorsese's current cinematographer of choice about the aesthetic decisions that went into the maestro's new epic, Killers of the Flower Moon.
In review
Ira Sachs' Passages
Celine Song's Past Lives
Anna Hints' Smoke Sauna Sisterhood
Joanna Hogg's The Eternal Daughter
Todd Haynes' May December
Molly Manning Walker's How To Have Sex
Ken Loach's The Old Oak
Babak Jalali's Fremont
Craig Gillespie's Dumb Money
Carol Morley's Typist Artist Pirate King
Cristian Mungiu's R.M.N.
Clement Virgo's Brother
Matt Johnson's BlackBerry
Sebastián Silva's Rotting in the Sun
Justine Triet's Anatomy of a Fall
Koji Fukada's Love Life
Martin Scorsese's Killers of the Flower Moon
Plus, Matt Turner selects six key home ents releases for your consideration, including Jean Rollin's Night of the Hunted, Christopher Nolan's Following, Kira Muratova's The Long Farewell, Mario Bava's Blood and Black Lace 4K, Kiyoshi Kurosawa's The Guard from the Underground and Ann Hui's Visible Secret.
The third edition of Marina Ashioti's column Sticky Gold Stars which celebrates LGBTQ+ cinema is inspired by the queer-tinged slow cinema offerings at this year's Locarno Film Festival.
And there's also a preview of all the great films playing at the 2023 London Film Festival.
A final big thank you to everyone at LWLies and TCO London whose tireless efforts and neverending hustle allowed all this to happen: Hannah Strong, Marina Ashioti, Adam Woodward, Saskia Lloyd Gaiger, Tertia Nash, Emma Balebela, Han Nightingale, Emily Sear, Kay Ogundimu, Vince Medeiros, Steph Pomphrey, Wendy Klerck, Simon Baker, Brian Clark and the entire team.
LWLies 100 is available to order now from our online shop. You can order all four covers as a package, or order individual covers. Become a LWLies Gold Member or subscribe today to make sure you never miss an issue.
Published 13 Sep 2023