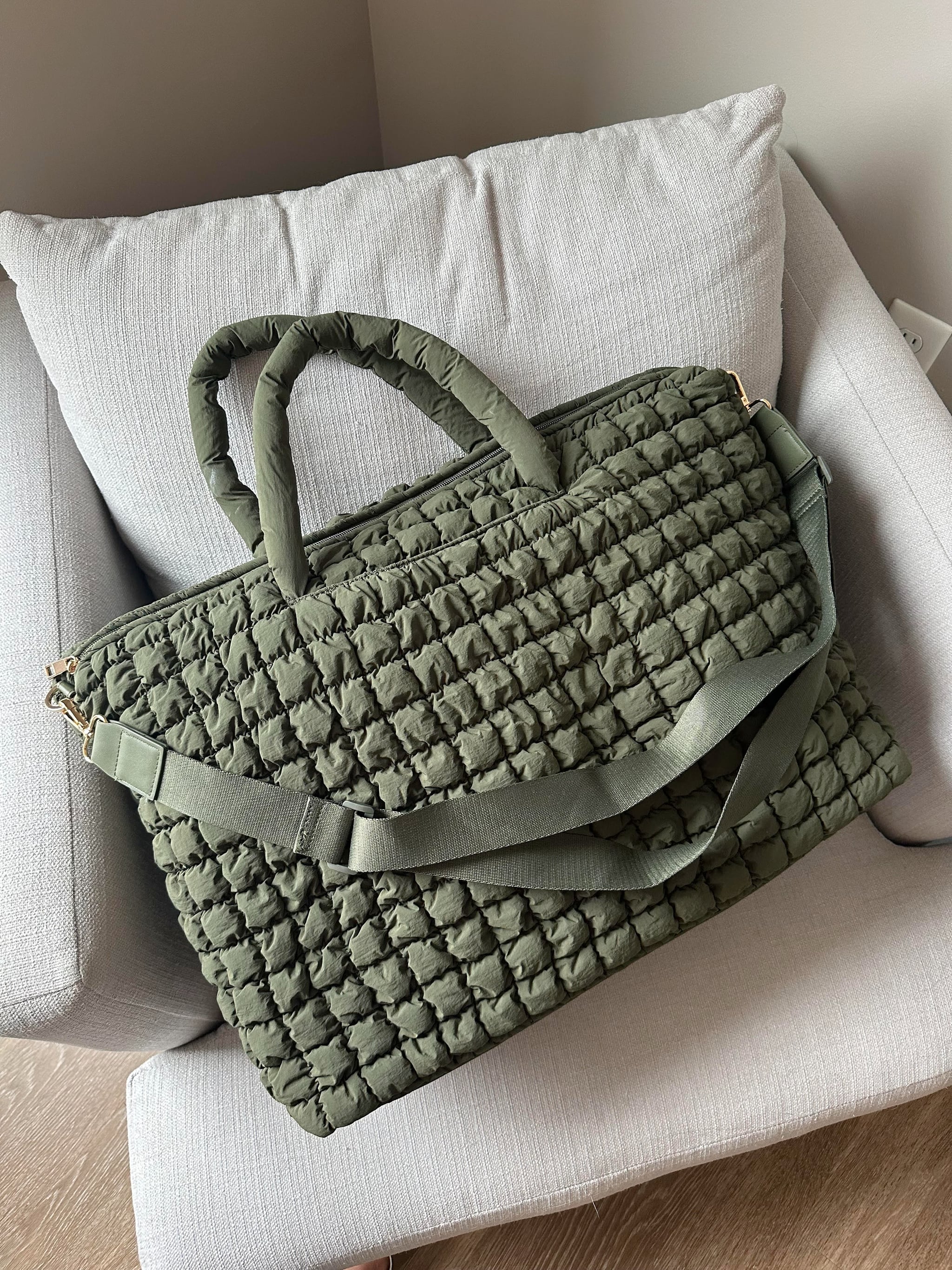 Last summer, I stumbled upon the quilted A New Day Athleisure Soft Puff Weekender Bag ($45) at Target. It was available in a versatile beige shade that caught my eye whenever I visited the store, which, admittedly, is often. But despite the temptation, I couldn't justify the purchase, given that I already had a weekender bag or two at home, with zero imminent travel plans. However, with the arrival of this new season and a Google Calendar full of fall getaways on the horizon, temptation got the better of me, especially when I discovered that the retailer had introduced a stylish dark-green version. I knew this color would be a much wiser choice for me, considering how often I end up accidentally staining my belongings. It felt like the perfect self-indulgence to welcome the fall season, though I do wish I bought it sooner. Ahead, I break down everything you need to know about the spacious weekender.
What I Love About the A New Day Soft Puff Weekender Bag
What I love about this nylon weekender bag is, for starters, its aesthetic appeal. At the time of writing, it comes in three colors — green, black, and brown. However, the green version stands out with its 3-D textured, quilted fabric. The other options have a puffy silhouette as well, but they have a smooth texture rather than quilting. I personally love the quilted detail because it strikes the perfect balance between playfulness and functionality, setting it apart from other weekender bags I've owned. It even has gold hardware, which I think enhances its overall appeal. (I'm almost always wearing gold jewelry.)
Another thing I love about this puffer bag is its generous storage capacity. It has both interior and exterior pockets, making it an ideal choice for accommodating a long weekend's worth of clothing, accessories, and other essentials. The exterior features an unzipped pocket and a convenient luggage trolley sleeve, while the interior has a zippered pocket and two smaller, unzipped compartments that I used to store my iPhone and AirPods. It also has a detachable strap, so you can wear it as a crossbody or hold it by its double straps. No surprise here, but the trolley sleeve is my favorite option when traveling with carry-on luggage.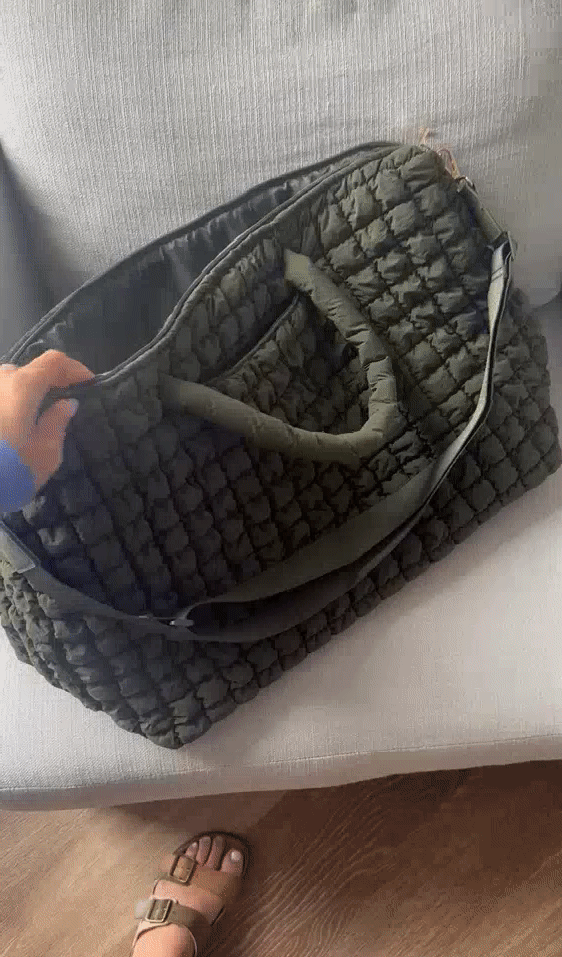 What's Worth Noting About the A New Day Soft Puff Weekender Bag
While this weekender bag boasts an almost perfect five-star rating from Target shoppers, it's not surprising that it has garnered a few critical reviews. Some individuals have raised concerns about its quality, with a handful mentioning that the bag's handle tore during use. In my own experience, having used it for just one weekend trip so far, I didn't encounter any quality issues. However, it's worth noting that I didn't fill it to the brim, which is something you might want to emulate if you plan to add it to your accessories collection.
Who Is the A New Day Soft Puff Weekender Bag Best For?
The A New Day Soft Puff Weekender Bag is best for those looking for a weekender bag that's stylish yet functional at a fair price. It's a worthwhile option if you have long weekend vacations where you won't need (or want) to utilize traditional luggage.
Additional Details About the A New Day Soft Puff Weekender Bag
The A New Day Soft Puff Weekender Bag from Target is crafted from 90 percent recycled polyester.
Its dimensions are 15.5 x 23 x 10 inches.
The brand advises spot cleaning instead of machine washing for maintenance.
Image Source: POPSUGAR Photography / Marisa Petrarca